The Voice: Adam Levine & Christina Aguilera Clash Over Jay-Z's 99 Problems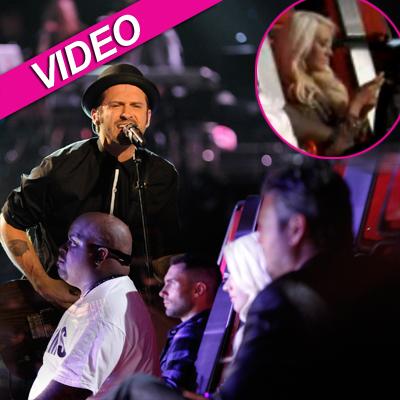 They move like Jagger … and fight like Tyson.
While all four finalists let it all hang out on NBC's The Voice Monday, it was judges Christina Aguilera and Adam Levine who made for Tuesday's most compelling water cooler chatter, as the bickering between the stars reached new levels as the second season of their hit show winds down.
As we previously reported, the superstar singers, who successfully collaborated on the pop hit Moves Like Jagger, mixed like oil and water because of the song Adam's protégé Tony Lucca sang -- and it's perhaps underlying message aimed at Christina.
Article continues below advertisement
Lucca, Christina's former Mickey Mouse club acquaintance, performed Jay-Z's 99 Problems, a hip-hop anthem with lyrics that could be interpreted as misogynistic ("I got 99 problems but a b*tch ain't one"), which was not lost on Christina.
"Your beautiful wife and your daughter and family are here tonight," she told Tony, "and I just thought, you know, the lyrical connotation was a little derogatory towards women, but all-in-all, it was good fun."
Adam barked back, "It's called a metaphor … we're not referring to women; we're referring to everything."
Christina shot back, "If that's how you have to get points …"
"I just want say, I love you Christina, but Tony, I thought you did fantastic," the hunky Maroon 5 singer told Tony, before revealing his undershirt, which read "Team Xtina" in glittery letters.
Later in the show, Tony thanked Levine in an emotional speech in which he called the show a "completely amazing, life-altering experience" -- not that Christina could be bothered to pay attention, as she was texting during what could be the dwindling seconds in Tony's 15 minutes of fame.
Article continues below advertisement
In a backhanded dig at Tony, Christina called her protégé Chris Mann "a real man who respects women."
Elsewhere, Blake's protégé Jermaine Paul sang R. Kelly's I Believe I Can Fly, while Cee Lo's contestant Juliet Simms sang Lynyrd Skynyrd's Free Bird.
Watch the video on RadarOnline.com
The winner of The Voice will be crowned on the show's season two-hour finale on NBC Tuesday at 9/8c.
RELATED STORIES: