Exclusive
The Voice Torn Apart By Adam Levine & Christina Aguilera's Explosive Brawl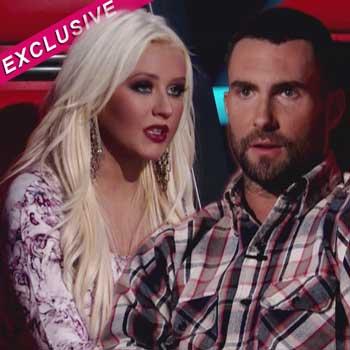 It should have been a happy day on set for the four coaches of The Voice as they geared up for the May 8 finale, but instead an explosive fight blew up between Christina Aguilera and Adam Levine during the May 7 rehearsal, leaving the set reeling, a source close to Christina exclusively tells RadarOnline.com.
"Christina found out that Adam planned to have his finalist, Tony Luca, sing 99 Problems by Jay-Z, in which he'll sing "I've got 99 problems but a bitch ain't one" the source explains. "Adam and Tony wanted to call Christina out as a bitch but make it clear she's not a problem for Tony. It was completely aimed at her. It was Adam's idea, but Tony absolutely loved it."
Article continues below advertisement
However, the 31-year-old mom flipped out.
"Christina thought it was ridiculous. She was highly offended," the source explained. "It ended up that NBC told Adam to change 'bitch' in the song's lyrics to 'chick.'"
But Adam, 33, would not relent, arguing that changing the song completely ruined it and he wouldn't do that to Tony, the source explained.
"He said changing the song would be a death sentence," the source continued.
Adam – furious at Christina – blew up at her during the coaches' rehearsal for Free Your Mind.
"Adam went right up to Christina and said 'you're the biggest f***ing c***," the source said. "Obviously Christina was appalled and hissed that Adam should be fired. She's sick of being treated this way."
"Christina is so sick of Adam being looked at as the golden boy of the show. If America knew how disgusting he was, they would be appalled, she always says," the source admitted.
Article continues below advertisement
Adam's outburst led to a halt in production rehearsals.
"Adam wouldn't do anything until this gets figured out," the source revealed. "He was being incredibly immature."
Locking himself in his trailer, Adam put the whole set in a frenzy, the source said.
The whole thing was a "huge fiasco," the source admitted. "By midday it wasn't even confirmed that Adam would be going through with the coaches performance. It was that bad."