Exclusive
Scientology 'Bending The Rules' By Letting Tom Cruise See Suri, Reveals Former Celebrity President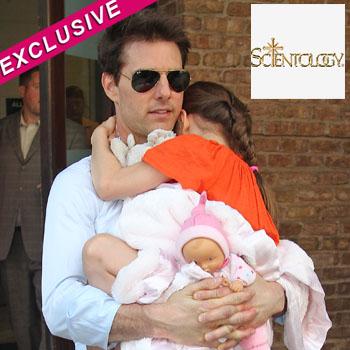 Some people have marveled at how little Tom Cruise has seen beloved daughter, Suri, since he split from Katie Holmes, but RadarOnline.com can exclusively reveal he is getting special treatment from the strict heads of Scientology to even have any contact with her.
"They have already bent the rules for Tom," the former president of the celebrity center, Nancy Many, told RadarOnline.com in an exclusive interview. "If Tom was any other Scientologist, including lesser celebrities, he would not be allowed to continue seeing and maintaining communication with Katie or Suri, because they are no longer in Scientology."
Article continues below advertisement
"So far, because of who he is, Cruise has spent time with Suri, which has already upset the parents and children of existing Scientologists who can't talk to their loved ones. If he is supposed to be a Scientologist, why don't the rules for every other member apply to him?" she asked.
"When every other person that I have known of leaves Scientology, which Katie did without speaking of it directly, they are instantly shunned," explained Many. "By rejoining a Catholic Church right afterwards, she made a very public statement of rejection."
Within hours of leaving the controversial religion, former members are un-friended on Facebook and in all aspects of their lives - that includes by their children, parents, friends, and everyone they know, said the former celebrity president.
Apart from a fun-filled trip to Disneyland last June, The Days Of Thunder actor has spent far less time than usual with Daddy's little girl over recent months, and even missed her first day of school on September 11 because he was filming in London.
Article continues below advertisement
However, Many is surprised that Tom is allowed to see Suri at all. "I understand that Tom was always busy, busy, busy, before the divorce but Katie would fly Suri to him," so the changes in his marital state could be just as much of a reason for the estrangement as his religious restrictions.
The latest issue of Star magazine revealed that the Mission Impossible actor may even be distancing himself from the church and, according to a insider, "hanging out with good friends who aren't part of the religion."
Sources say an introspective Tom, 50, is weighing the damage his affiliation with the controversial church has done in his relationships with ex-wives Katie Holmes and Nicole Kidman, ex-girlfriend Penelope Cruz, and especially his future with Suri.
RELATED STORIES: