Where's Daddy? Tom Cruise Hasn't Been Publicly Seen With Suri In 48 Days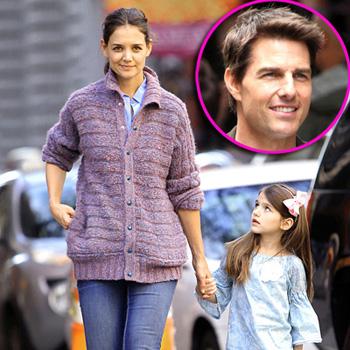 Article continues below advertisement
During the trip, Suri was lavished with attention by Cruise as they stayed at every little girl's dream, the Cinderella Castle, and splashed around in the Typhoon Lagoon.
However, when it comes to important milestones in Suri's life such her first day at school on September 11, he was nowhere in sight as Katie dropped her off at posh private school, the Avenues, in Chelsea, New York.
Unlike her older siblings, Isabella and Connor Cruise, Suri is not being home schooled or attending a Scientology school but is now going to the private academy that just opened earlier this month.
Rather than helping with homework and listening to his daughter's daily adventures, the action star is away in London shooting his new sic-fi movie, All You Need Is Kill, in which he plays a raw recruit who gets killed in action but, in Groundhog Day fashion, is reborn each day to fight and die again and again.
The 50-year-old has been spotted looking thin and weathered while and about in England's capital city, often hiding his tired eyes under signature shades as both the stress of his split from Katie and an intense work schedule are taking their toll. Before beginning his latest project, Cruise had been bouncing between Iceland, Louisiana and New York filming Oblivion, with with former Bond girl Olga Kurylenko.
Article continues below advertisement