Exclusive
Ni Hao! Over-Achiever Suri Cruise Studying Chinese In School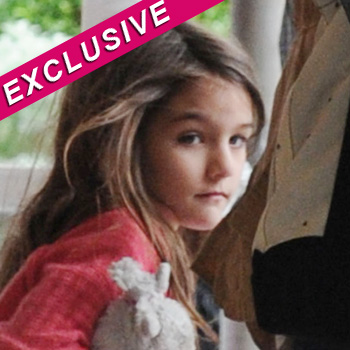 By Alexis Tereszcuk - Radar Entertainment Editor
Suri Cruise is a new student in the tony Manhattan private Avenues School in which each child focuses on a language track and RadarOnline.com has exclusively learned that she's studying Chinese!
Tom Cruise and Katie Holmes have enrolled their 6-year-old daughter in the exclusive school which charges a whopping $44,000 a year for first grade tuition.
"Suri is going to be learning Mandarin," a source exclusively told RadarOnline.com. "She is in the program for the Lower School which focuses on Chinese, and this is a great foundation for her."
Article continues below advertisement
As a student at the prestigious New York City school, Suri is getting every opportunity to learn the language and be immersed in the culture and the school even has plans for future campuses in Hong Kong, Shanghai and Beijing.
The Avenues School website details the education program:
"Mastery of languages other than one's own is a central feature of the Avenues mission. The forces fueling this trend are social, economic, political, environmental and technological. It sparks curiosity and invites travel. It erodes stereotypes and fosters peace. It builds both self-confidence and self-knowledge. All are essential outcomes of an Avenues education.
"The language of instruction in all Avenues schools will be English. By graduation, all students will be expected to be fluent in a second world language, although some will push well beyond this requirement. Instruction will begin in the early years when students have proven capacities for language learning, with exposure to Mandarin and Spanish in the Early Learning Center."
Ni Hao Suri!
RELATED STORIES: