Melissa Gorga Questions Teresa Giudice's Innocence In 'Strippergate'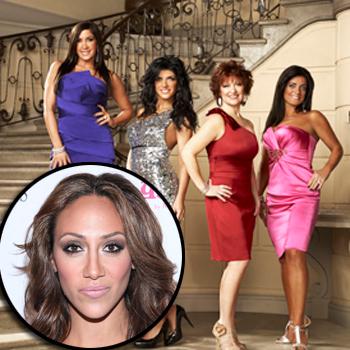 Melissa Gorga doesn't buy it.
The 33-year-old reality star took to her Bravo blog in the wake of Kim D's reunion show revelation distancing Teresa Giudice from the "Strippergate" scandal that implicated Melissa once danced at the Elizabeth, New Jersey strip joint Looker's.
In her new blog, Melissa wrote that she and her sister-in-law have "always had our issues and our husbands have always had theirs... but in the last year or so it's just all come to a head."
Article continues below advertisement
Melissa said she doesn't buy Kim's story because it "has changed so many times since that night I can't keep up.
"She did set me up, she didn't set me up, there was no set up," she wrote. "Enough already."
She called Kim D's explanation of being angry at her over a petty business slight -- and her claims Teresa was more or less an innocent bystander in the fiasco -- "ridiculous.
"Come on, everyone, lets be reasonable, there were a lot of things falling in both of their laps that day," Melissa wrote. "The hair salon was just too convenient that day. Why couldn't Teresa call me in between the hair salon and the fashion show? Give me a warning of what Kim was doing? The heart pounding, the blinks, the nervousness.
"Then Kim D. comes to the reunion and admits Teresa knew it was a set up for me. It's all right there, and honestly I know in my heart what she was doing. It's written all over her face. Of course she was in on it."
Melissa -- who has three kids with Teresa's brother Joe -- questioned Teresa's reaction to the incident under the giuse she was not involved with it.
"Why isn't Teresa mad at KIM? Why isn't she mad at her for doing this to her brother's wife? Why isn't she upset with her for causing all this commotion when everything was so good between us? Why did Teresa just do a signing at Kim's store after all of this? Why was Kim tweeting pictures last week out at nightclubs with Teresa? Seems Teresa is returning the favor."
Article continues below advertisement