TV News Anchor: I Wanted To Call Out Viewer For 'Uncalled For' Weight Jabs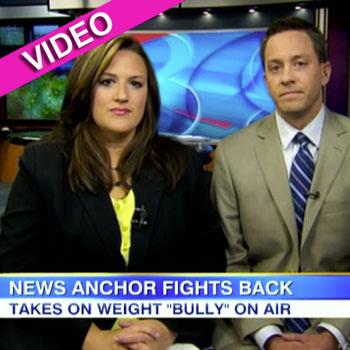 The La Crosse, Wisconsin TV news anchor who chided a viewer on the air for being a "bully" after he e-mailed her that her weight made her a poor role model appeared on Good Morning America Wednesday to address the ongoing controversy, after the 4-minute segment went viral.
As we previously reported, the letter's author, identified as Kenneth Krause, told WKBT-TV anchor Jennifer Livingston that her "physical condition hasn't improved for many years" and she shouldn't consider herself "a suitable example for this community's young people, girls in particular."
Article continues below advertisement
Livingston, 37, told GMA that while working in the public eye, she's used to e-mails filled with criticism, but in this case, she took Krause's attack personally.
"Calling me obese is one thing: calling me a bad role model for our community that I've worked at for 15 years -- and especially for young girls when I have three girls -- was a low blow, and I thought it was uncalled for, and I wanted to call him out on it," she explained.
Watch the video on RadarOnline.com
Livingston added that the writer likely "views himself as being helpful, which is what I think a little bit of the problem is … he's trying to shame me into losing weight -- that's not being helpful, that's being a bully."
Livingston's husband Mike Thompson (also a WKBT-TV broadcaster), who initially posted the message to his Facebook page, said the author of the e-mail was ignorant in understanding the hurdles his wife faces in her battle with the bulge.
Article continues below advertisement
"What really angered me more so than his attack on her not being a role model for the community is that he doesn't know Jennifer," Thompson told GMA. "He doesn't know me. He doesn't know our family. He doesn't know that Jennifer has ran triathlons. He doesn't know that she ran in a race last weekend, a 5K race. She works out two or three times a week. She is going to run in a race this weekend. He doesn't know that. He doesn't know that she has a condition, a thyroid condition, that makes it harder for her to lose weight.
"He doesn't know any of that: He just decided to attack her for no reason."
In the segment Tuesday, Livingston at one point called the viewer a bully whose behavior could rub off on others (particularly kids). She stood by her comments on ABC Wednesday.
"I do believe that for the majority of kids out there, this behavior is learned: It's coming from somewhere else," Livingston said. "We all as adults need to take the time to have the discussion with our children about what's important, about whether kindness is the way that we want to be, or do we want to be critical about the way someone looks."