Father Jailed For Injecting Heroin Into Mouth Of His Baby, Attempting To Murder Her Mother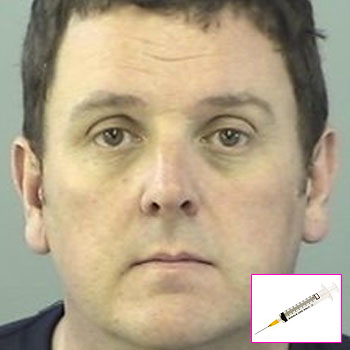 By Debbie Emery - RadarOnline.com Reporter
A British man has been imprisoned for a cold-blooded revenge plot against his ex-girlfriend that involved injecting heroin into the mouth of their baby daughter, after attacking the child's mother with a flare gun and meat cleaver.
Roger Weir, 45, from Poole in Dorset, England, has been sentenced to 18 years for the bizarre attack on the 20-month old child and the mother Gillian Blackmore, 27, reported the BBC.
Article continues below advertisement
The Winchester Crown Court had previously heard how the deadbeat dad was furious that his former fiancee was now dating Barry Towler, a police community support officer, and poisoned their child with drugs to "get at" her.
"I can't live with the thought of someone else raising my daughter," the jealous man told police.
The incident happened on May 7 when Weir arrived at Blackmore's apartment armed with with a specially adapted flare gun capable of firing bullets. He told her, "I want you dead," before firing the gun at her, beating her with a baton and attacking her with the cleaver.