Exclusive
George Zimmerman's Brother Threatening Trayvon Martin Attorney: 'I Will See You Disbarred'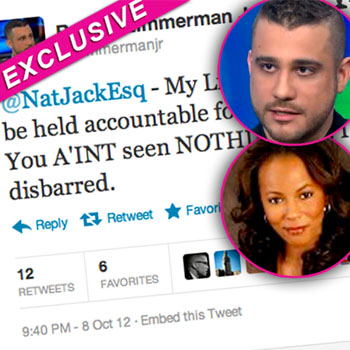 Article continues below advertisement
Sherman was represented by Natalie and the Zimmerman brothers' mother, Gladys Zimmerman, used the case in a recent interview to argue that her son is not racist, like some have assumed because of his case involving Trayvon.
"I hope GOD grants you a long life so you live to repent for what you have done. I will keep you in my prayers Ms. Jackson. God Bless You," Robert wrote to Natalie in yet another tweet.
Robert was reacting to a tweet in which Natalie suggested his brother is a "murderer" and feels she should know that George had no malicious intent given the fact that he was the only one who stood up for her client when she was representing Sherman.
"My Life's work = you WILL be held accountable for your words/actions. You A'INT seen NOTHIN' yet... I will see U disbarred," Robert threatened.
The Florida based attorney responded by blocking Robert and writing, "Please see my Rule #1: Never argue with a fool, onlookers may not be able to tell the difference - Mark Twain #BLOCKED."
Article continues below advertisement
That didn't stop Robert, who continued to tweet Natalie and her associates:
"The Scheme will be exposed, one by one, day by day - SHAME on you."
Robert's brother George was charged with the second-degree murder of Trayvon for shooting the 17-year-old on February 26 and is currently free on $1 million bail.
George is also suing NBC over the 911 call he made the night he shot Trayvon because he claims the network creatively edited the call to play up racial overtones in the case.