Breath Of Life! Two Denver Zoo Staffers Save Baby Tapir, The Video You HAVE TO See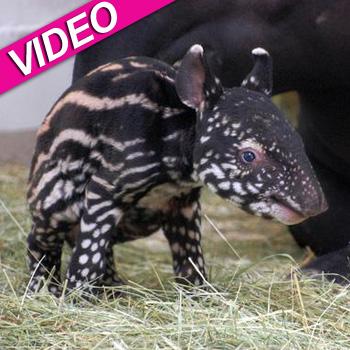 In a heart-stopping video you won't be able to turn away from, two quick thinking staffers at the Denver Zoo saved the life of a newborn Malayan tapir.
The two women literally leapt in to save the calf that appeared lifeless, and was trapped inside his mom's amniotic sac after she gave birth.
The remarkable incident took place on September 3, when Rinny, the zoo's female tapir – a mammal with a short snout and a body that is similar to the shape of a pig – gave birth in the rhino/tapir building of the Toyota Elephant Passage.
Article continues below advertisement
Staff watched in horror as, after giving birth to her infant, Rinny struggled unsuccessfully to free him from her amniotic sac. That's when Rebecca McCloskey – the Assistant Curator of Toyota Elephant Passage – reached in, removed the newborn and inspected him.
In the video McCloskey and staff veterinarian Gwen Jankowski are seen tearing the sac away from the little one.
When he didn't appear to be breathing, they tried tapping on his limp body and wiping out its mouth, that was full of fluid. Then came a last ditch effort - mouth to snout resuscitation -- and it worked!
"It's always a little scary when something like this happens, but thankfully we all have great resources and training," McCloskey says.
"It was such a relief to see him finally take those first breaths."
Nearly seven weeks later, more video footage from the Zoo shows a healthy calf who is walking and swimming.
Named Dumadi – which means "becoming" in Indonesian – the infant has developed the black and white color pattern that makes Malayan tapir's distinctive.
Article continues below advertisement