Exclusive
Dr. Conrad Murray Will NOT Be Home For Christmas, Not Eligible To Be Transferred To House Arrest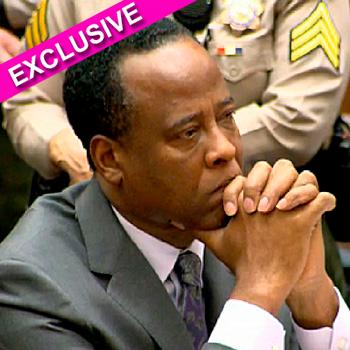 Article continues below advertisement
"The Los Angeles County Sheriffs Department maintains that Dr. Murray isn't eligible for house arrest/electronic monitoring," Dr. Murray's attorney, Valerie Wass tells RadarOnline.com exclusively.
Dr. Murray was recently taken from his jail cell to the Los Angeles County Hospital because he was concerned that he had developed blood clots on his legs. After a thorough examination, at the expense of taxpayers, it was determined that Murray didn't have any blood clots.
Los Angeles County Sheriff Spokesperson Nicole Nashida tells RadarOnline.com, "Mr. Murray is alive and well. We are working with him in addressing his medical concerns and any other issues that he has. Mr. Murray is being treated just like any other inmate at the jail."
As RadarOnline.com previously reported, Murray is passing his time in jail by writing a tell-all book, and he hopes a publisher will pay him a substantial amount of money.
Article continues below advertisement
"Dr. Murray spends most of his days writing what he is telling friends will be a tell-all about what really happened in the final days of Michael Jackson's life," a source previously told RadarOnline.com. "Murray believes that the public will want to hear about the time he spent with Michael.
"Conrad says that Michael confided his inner-most secrets about his true feelings for his family, the child molestation trial and his three children. Murray contends that Michael's kids viewed him as a family member and loved him.
"This is all about money for Murray though because he is absolutely flat broke and desperately needs the cash. He feels that the book could help rehab his image and help him to get his medical license back."
Reps for Murray have reached out to publishers to test the waters to see if there is any interest in the book, and so far the response has been, "no thanks."
Meanwhile, a law enforcement source tells RadarOnline.com: "Murray isn't causing any problems, but like every inmate in jail, he wants out. Murray constantly laments that he is a scapegoat for Michael Jackson's death and he hasn't shown any true remorse for his role. Dr. Murray needs to accept the fact that he will be staying in jail for another year. Whatever medical condition he may develop, mental health issue, you name it, he will remain in custody. Jails have medical wings and are equipped to deal with any issue an inmate can develop."