Exclusive
Dr. Conrad Murray Tells Baby Mama He Could Be Out Of Jail By Christmas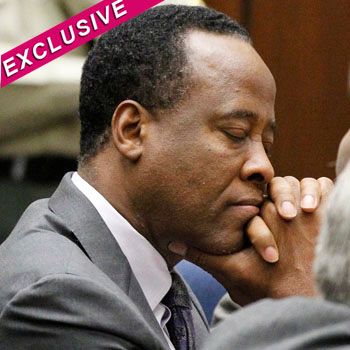 By Jen Heger - RadarOnline.com Assistant Managing Editor
Dr. Conrad Murray, who was convicted of involuntary manslaughter in connection with the shocking death of pop superstar Michael Jackson, has told his baby mama, Nicole Alvarez, that he could be out of jail by Christmas, RadarOnline.com is exclusively reporting.
"Dr. Murray has told his girlfriend/baby mama Nicole Alvarez that he could be out of jail by Christmas. Murray was sent to jail almost a year ago and was sentenced to four years in state prison. However, because of jail overcrowding, Murray has been serving his sentence at the county jail in Los Angeles and is expected to serve two years of the four year sentence," a source close to the situation tells us.
Article continues below advertisement
"Dr. Murray doesn't understand why he hasn't been released to finish the sentence at home with electronic monitoring, which he is eligible for, and has been pushing his legal team to pressure officials to get him released. Dr. Murray is absolutely miserable behind bars and has been getting increasingly frustrated with his lawyers for not getting him out of jail. He believes that he could be granted bail on yet another appeal that is being filed, or sent home to finish his sentence," the insider added.
As RadarOnline.com previously reported, Murray is passing time in jail by writing a tell-all book, and he hopes a publisher will pay him a substantial amount of money.
"Dr. Murray spends most of his days writing what he is telling friends will be a tell-all book about what really happened in the final days of Michael Jackson's life," a source previously told us. "Murray believes that the public will want to hear about the time he spent with Michael.
Article continues below advertisement
Conrad says that Michael confided his inner-most secrets about his true feelings for his family, the child molestation trial and his three children. Murray contends that Michael's kids viewed him as a family member and loved him.
"This is all about money for Murray though because he is absolutely flat broke and desperately needs the cash. He feels that the book could help rehab his image and help him to get his medical license back."
Reps for Murray have reached out to publishers to test the waters to see if there is any interest in releasing the book, and so far, the response has been, "no thanks."
The convicted felon "is hopeful that jail officials will do the right thing in his mind and release him around Christmas. Murray believes that would be the perfect time for him to be sent home to finish serving his sentence because it would be the holiday season and hopefully wouldn't make big news," the source told us.
Article continues below advertisement