Michael Jackson Showed 'Signs Of Paranoia And Anxiety' In Weeks Before Dying Says 'This Is It' Director Kenny Ortega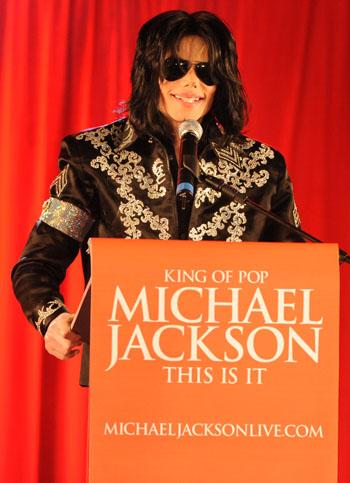 Michael Jackson was drinking heavily, was showing signs of paranoia, anxiety and obsessive-behavior, and insisted on being called 'Mikey' in the weeks leading up to his death, a blockbuster report in The Los Angeles Times has revealed.
The details of those final weeks are coming to light thanks to a lawsuit filed by AEG, the company that put This Is It together, and Lloyds of London, the insurer for the planned 50-show concert series.
Article continues below advertisement
After Jackson's death three years ago, AEG filed a claim for its $17.5 million in coverage but Lloyds has refused to pay, claiming it was misled as to Jackson's condition when it issued the policy. It has asked a judge to nullify the claim. AEG is countersuing, and 250 pages of confidential emails sent among AEG executives are offering up the first hard look at how worried they were about the former King of Pop.
As early as March, 2009, AEG knew it had trouble on its hands, the emails indicate. Jackson had been flown to London to announce the shows that were to be staged at the 02 Arena.
"MJ is locked in his room drunk and despondent," promoter Randy Phillips said in an email to his boss at AEG in Los Angeles. "I am trying to sober him up."
Phillips and another man literally had to dress Jackson for the PR announcement, which was delayed 90 minutes. "He is scared to death," Phillips wrote.
Article continues below advertisement
In May, as rehearsals for the show were about to begin in Los Angeles, Jackson and AEG got insurance from Lloyd's of London. For the rehearsal period, it only covered accidents, The Times reports. Only after Jackson got to London and was evaluated by Lloyd's own doctors would the policy cover illness and death.
Of course, that never happened. Jackson died in Los Angeles while still in rehearsals, a time of growing doubt from many of those most closely associated with the production; doubts they revealed in numerous emails.
"MJ is not in shape enough yet to sing this stuff live and dance at the same time," wrote musical director Kenny Ortega. "He was a basket case," a production manager wrote. "Doubt is pervasive."
The highly-respected Ortega, who had known Jackson for 20 years, became increasingly alarmed. "There are strong signs of paranoia, anxiety and obsessive-like behavior. I think the very best thing we can do is get a top Psychiatrist in to evaluate him ASAP," he wrote in one email.
Article continues below advertisement
"It is like there are two people there. One (deep inside) trying to hold on to what he was and still can be and not wanting us to quit him, the other in this weakened and troubled state. I believe we need professional guidance in this matter," he wrote in another.
In advance of his arrival in London, amid rumors of the troubled rehearsals, Lloyds demanded five years of Jackson's medical records be sent over. Ten requests were sent to Jackson's new doctor of record, Conrad Murray, in the week before Jackson died.
Saying he had spoken to Jackson, Murray finally responded on June 25, 2009. "Authorization is denied," he wrote.
Jackson was dead an hour later, and Murray is now in prison after being convicted of involuntary manslaughter.
The emails are expected to also play a pivotal role in the Jackson family's wrongful death lawsuit against AEG.
RELATED STORIES:
Katherine Jackson Wants An Extensive Audit Of Michael's Estate