Exclusive
Christie Brinkley's Son Blames Step Mother For Peter Cook Drama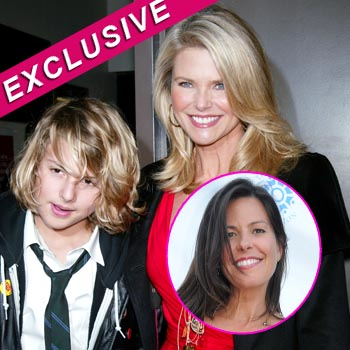 Peter Cook's new wife Suzanne Shaw has accused his ex, Christie Brinkley, of being obsessed with him — but a source close to Peter and Christie's son exclusively tells RadarOnline.com it's not true at all.
Jack Brinkley-Cook is Christie's son from her relationship with Richard Taubman and was later adopted by Peter when he and Christie got together, and a source close to the 17-year-old says he hates the things his step-mom is saying about his mother.
Article continues below advertisement
"Jack says his mother has never been obsessed with his father's wife and he thinks all of this drama is completely unnecessary," the insider revealed.
"In fact, as nasty as their breakup was, Jack has never heard one say bad things about the other — but he has heard Suzanne say stuff about Christie."
As RadarOnline.com first reported, Suzanne recently fled the U.S. for Bali and according to the New York Post it was because of Christie's "hate."
"The black cloud of Christie Brinkley's hate that has hung over our lives for the five years I have been with Peter and has taken an unhappy toll on me and my daughter's life — on all our lives. I needed a break," Suzanne said.
"To this day she has not stopped with her Peter Cook obsession.
"They parted ways more than six years ago, but she can't let go . . . finding more ways to interfere with Peter's life — continuing what can only aptly be named the sad battles of Christie Brinkley. I left the country to get away from Christie, not my husband."
Article continues below advertisement