Model Christie Brinkley Created 'A Black Cloud Of Hate' Claims Her Ex Husband's New Wife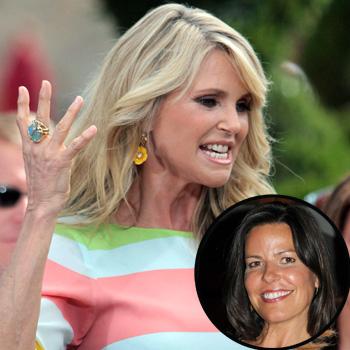 By Debbie Emery - RadarOnline.com Reporter
The woman who married Christie Brinkley's cheating ex-husband is now accusing the supermodel of driving her out of the country.
Peter Cook's new wife, Suzanne Shaw, is blaming Brinkley's obsession with her husband as the reason that she fled the U.S. for Bali, reported the New York Post.
"The black cloud of Christie Brinkley's hate (that) has hung over our lives for the five years I have been with Peter and has taken an unhappy toll on me and my daughter's life — on all our lives. I needed a break.
Article continues below advertisement
"There has been a lot of gossip circling around the reasons I have left the country for such an extended period," Shaw wrote to the Post on Wednesday from Indonesia, adding: "Mainly that I found evidence of infidelity, and I am filing for divorce." She denies, however, that her marriage is on the rocks.
Last June, Brinkley and Shaw went head-to-head in an angry cat-fight after a court hearing for a child custody dispute. "When you find out he's been cheating on you, I'll be here," 58-year-old Christie allegedly told Cook's new wife.
"To this day she has not stopped with her Peter Cook obsession," claims Suzanne.
"They parted ways more than six years ago, but she can't let go . . . finding more ways to interfere with Peter's life — continuing what can only aptly be named the sad battles of Christie Brinkley. I left the country to get away from Christie, not my husband."
As for her part in the fracas, Shaw aired her hatred online by posting a list of lies she claims Christie has spread on the model's Facebook page. "I posted it early," Shaw revealed. "Peter told me she is a late sleeper so I got a good hour or so out of it . . . ha ha."
Article continues below advertisement
Cook was the former Sports Illustrated swimsuit model's fourth husband. The couple were married in 1996 and divorced in 2008 amid a bitter custody battle over their daughter, Sailor Lee Brinkley Cook, and accusations of his use of "physical force" with the other children, including Christie's daughter with Billy Joel, Alexa Ray.
As RadarOnline.com previously reported, during their divorce proceedings, it was revealed that Cook spent thousands of dollars on internet porn and had an affair with an 18-year-old neighbor whom he tried to unsuccessfully bribe not to talk by offering her $300,000.