Evelyn Who? Chad 'Ochocinco' Johnson Has A Cozy Lunch With Celebrity Trainer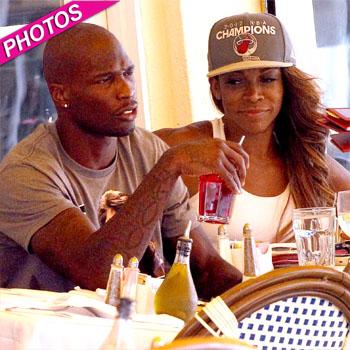 Article continues below advertisement
With them both looking fit and ripped in casual workout clothes, it was hard to tell if the pair had met up for a gym date or something more romantic.
Whatever the circumstances, the six time pro baller sounded excited to meet up with A.J. as he tweeted "Locked and Loaded…" in reply to her question of "u ready?" earlier on Monday.
Adrienne-Joi Johnson has appeared in supporting roles in House Party and Baby Boy, but is best known for getting celebs such as Gabrielle Union, Beyonce and Emily Blunt into kick-ass shape.
The 49-year-old wellness coach and founder of the 'A.J. Zone' has also hosted a reality fitness competition, From Flab To Fab on VH1, the same network that airs Basketball Wives and canceled Lozada and Johnson's doomed wedding special Ev & Ocho following their split after just 41 days of marriage .
Having been cut from the Dolphins before the NFL season even began, dumped by his wife and had a judge rule that he "can not email, Twitter, or text" his ex as part of a plea deal in his misdemeanor domestic battery case – Chad needs all the positive influences in his life that he can get!
MORE ON:
hollywood happenings
Article continues below advertisement