Exclusive
'Big Rich Texas' Star Leslie Birkland Slams Co-Stars: 'I'm The Only One Who Hasn't Ever Lied!'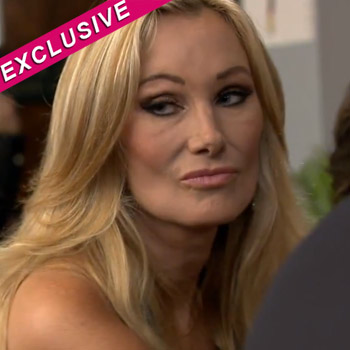 By Alexis Tereszcuk - RadarOnline.com Entertainment Editor
The hit reality show Big Rich Texas is returning for a third season and Leslie Birkland exclusively dished to RadarOnline.com about the booze fueled fights, trash talking and lying that happens on the show.
"There are too many fights to count," Leslie says about the drama coming up. "There are no guns but booze, booze and more booze. Every day there was something that happened. I was shocked when I would walk by people and hear them say something about me. I would say 'I'm right here, I can hear you!'"
Article continues below advertisement
Leslie said she took the high road during the spats. "I never say anything and I will always tell the truth."
She also defended herself to RadarOnline.com about the other women saying that she doesn't tell the truth.
"I am the only one who hasn't lied ever! Each of them has embellished and it is frustrating. I guess it is just entertainment for them. They run out of things to say I'm lying about."
Not returning for the third season is Leslie's old nemesis Pamela Martin Duarte and she certainly isn't unhappy about that.
"Pam is not joining us and I'm not heartbroken. I don't know, I guess she could take being mean anymore."
Bonnie Blossman Myer and her daughter Whitney are back and Leslie said they have "stepped it up a notch" in their brutal fights too.
"I would love to say that I rise above it," Leslie admitted. "But it is hard and I try to hold my own."
Big Rich Texas season three premieres Sunday, October 7 at 8/7c on the Style Network.