Teen Mom Amber Portwood Will Be Visited In Prison By Her Daughter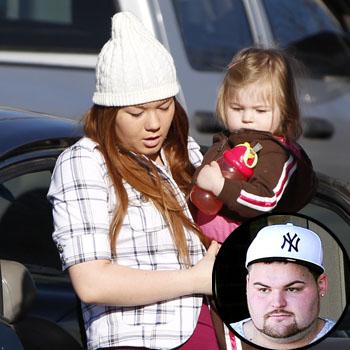 Teen Mom Amber Portwood's baby daddy Gary Shirley, saying he wants to do what's best, has decided to bring their 3-year-old daughter Leah to visit her incarcerated mother, adding his hesitance to do so earlier was not "a control thing."
"Just to clear up confusion I had to find out for my daughter amber and myself if it was best for Leah to go where her mommy is and visit," Shirley wrote on his Facebook page late Sunday. "I learned that it is the best thing for Leah and Amber."
Article continues below advertisement
Gary had previously told their daughter that Amber (who's serving a 5-year jail term) was away making a movie out West.
Gary wrote, "All the paperwork is finally in order so yes soon we will be visiting her. She's doing a lot better a lot of stuff has be cleared between us things have settled down... things are heading in the right direction. Thanks for support and in NO WAY was me not taking her to se her mom a control thing."
The single dad emphasized he was "JUST TRYING TO FIGURE OUT WHAT'S BEST FOR LEAH."
As we previously reported, Portwood groused in an interview with Dr. Drew Pinsky earlier this month that Shirley had refused to bring their little girl to visit her at Indiana's Rockville Correctional Facility.
"He has my daughter -- and anytime I get made at him on the phone, he hangs up on me!" Amber, 22, said in the chat, which was broadcast on MTV. "Leah can be brought in, but it all boils down to Gary, as the guardian, to sign the papers … I've sent him visitation papers twice. I think he's trying to protect Leah, too."