TODAY Chief Admits It Has Been 'Rough' But Matt Lauer Isn't To Blame For Ratings Slump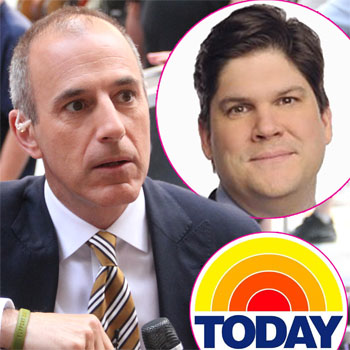 By Debbie Emery - Radar Reporter
The finger of blame for the TODAY ratings crisis has been firmly pointed at Matt Lauer lately, but the morning anchor's big boss has now openly defended him and said he is not to blame for the recent numbers slump.
Executive producer Jim Bell went to bat for the long time host on Wednesday, when he admitted that: "We had to make some tough calls. We're taking some shots. But that's okay. We have the right team in place now. We're just trying to move forward here," reported The Hollywood Reporter.
Article continues below advertisement
Despite the TODAY chief having to face serious criticism for the decision to replace Ann Curry with Savannah Guthrie – and subsequently ending their 16-year winning streak against Good Morning America in the ratings war – Bell said it isn't Lauer's fault and the damage to his image is regrettable.
"I think it's really unfortunate how that played out. And obviously the transition didn't go quite as we had hoped. And Matt, I need to say for the record, really should not bear any of the blame for that," he candidly told the Reporter.
"I'm the executive producer of the show. He's not. He's the public face of the show," said Bell as he fiercely defended his staffer. "So he's taken some of this. But it has been wrong. And that fact should be corrected."
As RadarOnline.com previously reported, 55-year-old Ann was unceremoniously ousted as lead anchor last June and demoted amid tears and outrage to a lesser correspondent role.
The trigger reaction to the ratings slump backfired and things have gone from bad to worse for the Peacock network, who added MSNBC correspondent Willie Geist onto the 9 a.m. roster this week in an attempt to add some new blood and lure back viewers.
Article continues below advertisement
While Bell admits that some morning watchers were put off by staff shakeups, he still believes that "Matt is probably the best guy to ever host morning television.
"We're not going to do anything that's going to hurt our brand and the legacy of the TODAY show. We're going to stick to our knitting and be who we are," he vowed.
The executive also stuck up for Guthrie, who has had a lukewarm reception since her promotion. "We think Savannah is a great host and works well with everybody and we love, frankly, having Ann in the role that she's in now. She continues to bring prestige to NBC News and the TODAY show."
At the end of the day, Bell believes the future is bright for TODAY, and reassured fans that it will overcome even these troubling adversities. "The show's been around a very long time; it will continue to be around for a very long time," he said.
RELATED STORIES:
TODAY Show Adds Willie Geist As Anchor In Hopes Of Stopping Ratings Slide
Matt Lauer Will Be Asked To Take 'Significant Pay Cut' If TODAY Ratings Continue To Decline