I Can Still Rock A Bikini! Stars Over 50 Strip Down & Flaunt Their Figures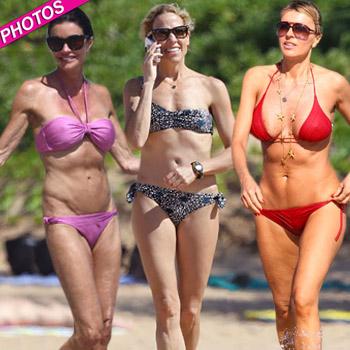 You don't have to be young to rock a bikini to perfection!
They may be over fifty, but these Hollywood stars are not bashful about their bodies, stripping down into super skimpy swimsuits and strutting their stuff on the shoreline. From models and reality stars to royals and big screen bombshells, RadarOnline.com has photos of stars over 50 showing off their still fabulous bikini bodies.
Article continues below advertisement
She may be 86 years old, but that doesn't stop the Duchess of Alba from frolicking around Europe in colorful bikinis. The Spanish royal, who is married to a man 24 years her junior, got lots of attention on her summer vacation, fearlessly showing off her figure.
When it comes to getting certified as one of the hottest cougars in Hollywood, Madonna, Sharon Stone and Janice Dickinson know that having a bangin' bikini body scores major points. All three of the ladies are in their fifties and still look more than fabulous with their clothes off.
And Heather Locklear's bikini body isn't just impressive for 50! The Melrose Place alum has a better bikini body than most people in their twenties.
Which other stars over 50 still look fabulous in their bikinis? Find out by clicking here.