Radar Summer Bikini Awards! The Hottest Bikini Babes At Every Age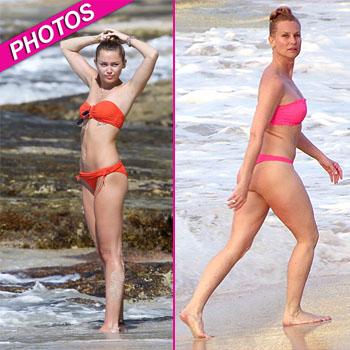 By Leah Ornstein - Radar Features Editor
Summer is heating up and bikini babes of all ages are stripping down!
No matter if they are barely legal or already cashing in on senior citizen discounts, Hollywood's hottest stars are steaming up the beaches with their bombshell bikini bods.
As part of RadarOnline.com's special Radar Summer Bikini Awards feature, we are honoring Hollywood's hottest bikini babes at every age.
Article continues below advertisement
They can't legally take a drink, but Miley Cyrus and Kendall Jenner can both rock bikinis to perfection.
While Kim Kardashian's little sister is already getting paid to model bikinis at 16-years-old, 19-year-old Miley is getting ready to be a bride. When it comes to bikini babes in their twenties, High School Musical star Ashley Tisdale and Rock of Ages hottie Julianne Hough definitely have all the right moves on the shoreline.
The singing and dancing sexpots will both be celebrating bikini birthdays this summer, and will hopefully ring in their big days stripped down on a beach somewhere.
Jessica Alba and Cameron Diaz are both in their dirty thirties but still have bikini bodies better than most teenagers.
41-year-old Bethenny Frankel is not just a Skinny Girl – the Real Housewife also has magnificent muscles.
Also sexy in her age bracket is Nicollette Sheridan, who is far from Desperate when it comes to her bikini body.
Last but not least, Maria Shriver and Sheryl Crow are both over 50, but it's hard to believe considering they are still sexy on the beach in their bikinis.
For all of this summer's hottest bikini babes at every age, click here.