New Scientology Tell-All Paints Faith As 'Strange And Disturbing'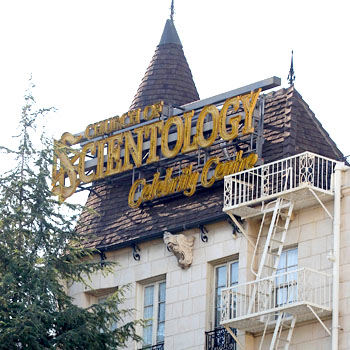 Just when the hubbub surrounding Tom Cruise was dying down, the Church of Scientology has a new thing to worry about: a tell-all memoir from a former insider painting a "strange and disturbing" portrait of the controversial institution.
HarperCollins Publishers subsidiary William Morrow is slated to release the memoir of Jenna Miscavige Hill, the niece of church head David Miscavige who has been estranged from the church for seven years.
Article continues below advertisement
The publisher promises details about the church's "upper ranks" from the author, an expert on the topic with years of experience having grown up around powerful figures in the faith.
Jenna has been quite outspoken about her experiences after leaving the church at 21, claiming she was alienated from her parents after they broke off with the church when she was 16. She said that for five years, she was isolated from them to the point that her letters were screened, and she was barred from using a phone.
After Cruise and Katie Holmes split earlier this summer, Jenna issued an impassioned statement in support of the former Dawson's Creek actress in her break from the church's brightest star, calling her "experience … growing up in Scientology...both mentally and, at times physically, abusive."
"While it is very unlikely that Suri Cruise would have the same upbringing as me (due to her parent's celebrity status), any organization that is capable of mistreating and neglecting the needs of children, regardless of their social status, and which has a long history of breaking up families is no place for an innocent child," she wrote.