Exclusive
Former Scientologist Suing The Church For Allegedly Forcing Her To Have An Abortion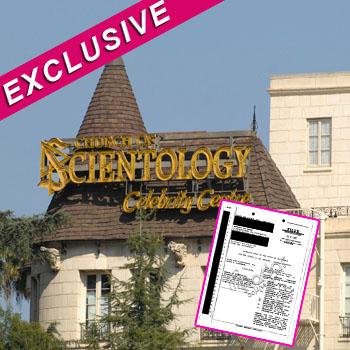 Article continues below advertisement
EXCLUSIVE DOCUMENTS: Former Scientologist Suing Church In Explosive New Lawsuit
"During Plaintiff's employment with Defendants, she became pregnant on one occasion in approximately 1996. Plaintiff was seventeen years old at the time she became pregnant. Defendants forced Plaintiff to have an abortion by threatening Plaintiff with losing her job, housing, and losing her husband if she did not have an abortion," the documents allege. "Further, Defendants threatened that upon losing her job, Plaintiff would owe Defendants a 'Freeloader Debt,' which is a supposed debt that Plaintiff would owe Defendants for purported Scientology training and services."
The Religious Technology Center is also named as a defendant and is a subsidiary of the Church.
According to the court documents, Laura Ann claims that she was recruited by the church "at the tender age of nine while living in New Mexcio and moved away from her family to live and work in Defendants' facilities in California when she was a mere twelve years old." However, when she began working for the church several years later, the documents allege, "once Plaintiff began living at Defendants' facilities, Defendants severely restricted Plaintiff's access to the outside world. Plaintiff had limited and restricted access to email, telephone, the internet, or uncensored television. Defendants also opened, read, and censored all mail."
Article continues below advertisement
The documents state that Laura Ann had a seventh grade education when she joined Scientology, but "contrary to Defendants' representations, Plaintiff received no formal education while living at Defendants' facilities."
The former Church member contends in the lawsuit that she was forced to work seven days a week, 100 hours a week, at below minimum wage.
The documents state that Laura Ann was sent to the Rehabilitation Project Force because of "purported wrongs during her employment." And that, Laura Ann was forced to work under "harsh conditions and perform manual labor..and was confined to the RFP for several years of her employment.
"On at least one occasion, Plaintiff was instructed to clean a large trash dumpster with a toothbrush. When Plaintiff purportedly acted out in the RFP, she was punished by being forced to run around the basement of the building where the RF was located push-ups."
The lawsuit goes on to claim that in 2004, feeling desperate and "no longer able to tolerate living and working at Defendants' facilities and end her employment, Plaintiff faked suicide. Upon learning of Plaintiff's suicidal actions, Defendants agreed that Plaintiff could end her employment."
Article continues below advertisement
Before leaving, Laura Ann claims in the documents that she was forced to sign multiple documents, which she was allegedly never given copies of.
"When Plaintiff left Defendants' facilities in 2004 she was informed that she owed defendant CSI, approximately $120,000 for her on-the-job training since age twelve, this is commonly referred to by the Church of Scientology as a 'Freeloader Debt,'" the lawsuit claims.
Laura Ann filed the second amended complaint because the first lawsuit was dismissed after the Church got the case moved to federal court and the judge ruled the statute of limitations had expired. After more legal wrangling, the California Appellate Court ruled Laura Ann could proceed with her second amended complaint against the Church.
The lawsuit is seeking loss of earnings, general damages, loss of education damages, restitution of unpaid wages, injunctive relief preventing forced abortions, and unspecified damages.