L. Ron Hubbard's Granddaughter & David Miscavige's Father Leave Scientology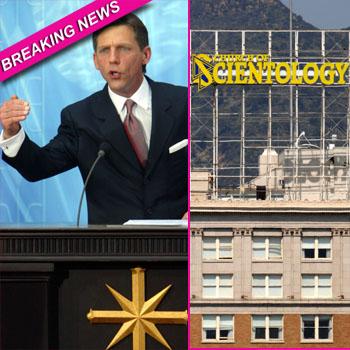 By Jen Heger - RadarOnline.com Assistant Managing Editor
Scientology founder, L. Ron Hubbard's granddaughter, Roanne Leake, and current Church leader, David Miscavige's father, Ron Miscavige Sr. have both defected from Scientology's International Base near Hemet, Calif., according to a new report.
The Church Of Scientology has been at the center of a media firestorm since Katie Holmes filed for divorce from Tom Cruise. As previously reported, the President of Scientology's Ex-Wife, Karen de la Carriere told RadarOnline.com that the organization is a "pay as you go religion," and she donated more than $300k to the church.
Article continues below advertisement
According to the Village Voice, "Roanne Leake, who is L. Ron Hubbard's granddaughter, has 'blown' the base, which was her home for more than 20 years. But just as shocking, at about the same time, the base was also abandoned by David Miscavige's father, Ron Miscavige Sr."
It could be a devastating blow to David Miscavige as his father introduced him to the religion when he was 12 years old. Miscavige's brother, Ronald Jr., and his daughter, Jenna Miscavige Hill, also left the religion. Jenna has been publicly very supportive of Katie Holmes' decision to divorce Tom Cruise.
L. Ron Hubbard's granddaughter, Roanne Leake, allegedly ditched the Scientology compound several weeks ago. Interestingly, L. Ron Hubbard had seven children, but only one of his chidlren, Roanne's mother, Diana, is a Scientologist. Roanne lived with her mother at the secretive base most of her life, and she is believed to be in her 30s.
Karen de la Carriere's son, Alexander, from her relationship with ex-husband and Scientology president, Heber Jentzsch, was found dead last week after allegedly having a high fever. The Los Angeles County Coroner told RadarOnline.com that Nyquil and several prescription bottles were recovered from the scene. The 27-year-old was also a Scientologist and was married to another church member. Karen de la Carriere claims she was blocked from seeing her son's body at the Los Angeles County Morgue and she severed all ties with the religion two years ago. Alexander's wife is the next of kin and under California law she has control over what will happen to Alexander's body.