Out British Actor Rupert Everett Blasted For Bashing 'Gay Dads'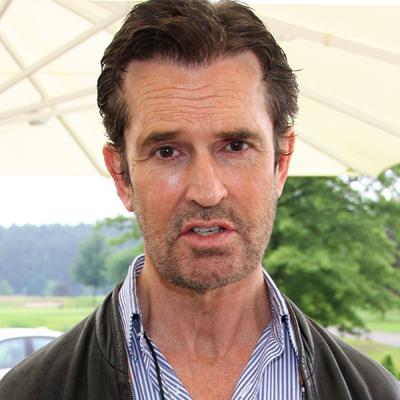 Article continues below advertisement
"She thinks children need a father and a mother and I agree with her," the 53-year-old told the Times. "I can't think of anything worse than being brought up by two gay dads.
"Some people might not agree with that. Fine! That's just my opinion."
One group who certainly doesn't agree is GLAAD (Gay & Lesbian Alliance Against Defamation), whose members have criticized The Importance Of Being Ernest star for his comments. "Since Everett shared his outdated opinion, gay parents, as well as their friends and families, have voiced overwhelming disappointment," GLAAD President Herndon Graddick said in an e-mail statement to RadarOnline.com.
"Children aren't hurt when raised by caring gay parents, but they are when uniformed people in the public eye insult their families."
Rupert predicted that he would face a bitter backlash for the interview, but made no apologies for his outspoken personal opinion. "I'm not speaking on behalf of the gay community," he revealed. "In fact, I don't feel like I'm part of any 'community.'
"The only community I belong to is humanity and we've got too many children on the planet, so it's good not to have more," Everett told the Times.
Article continues below advertisement
Later in the interview, Rupert's 77-year-old mother explained her thoughts on their family structure. "In the past, I have said that I wish Rupert was straight and, I probably still feel that," she said. "I'd like him to have a pretty wife. I'd like him to have children. He's so good with children. He'd make a wonderful father.
"But I also think a child needs a mummy and a daddy," said Sara Everett.
The Family Equality Council is the leading voice on issues related to gay parents and children and they too are disputing what they call a "misguided comment" from the actor.
"We know the truth about the millions of families with parents who are lesbian, gay, bisexual, or transgender," explained Executive Director Jennifer Chrisler. "We know that their children and indeed all children thrive because they are loved, whether their parents are men or women. More than 30 years of scientific research shows overwhelmingly that children raised by parents who are LGBT do equally as well as their counterparts raised by heterosexual parents.
Article continues below advertisement
"These parents are raising their children to be kind to their friends and neighbors, support their communities and uphold American values," she said. "One misguided comment cannot undo the truth nor demean the value of these families."
While many Hollywood stars are reluctant to talk about their sexuality, Rupert first came out two decades ago but confessed that he regretted it and thought the move had a negative effect on his career.
"The fact is that you could not be, and still cannot be, a 25-year-old homosexual trying to make it in the film business," the Shakespeare in Love star told British newspaper The Observer in 2009. "It just doesn't work and you're going to hit a brick wall at some point.
"You're going to manage to make it roll for a certain amount of time, but at the first sign of failure they'll cut you right off," he said candidly. "Honestly, I would not advise any actor necessarily, if he was really thinking of his career, to come out."