Sacha Baron Cohen Pokes Fun At Ryan Seacrest: Suggests He Is Gay!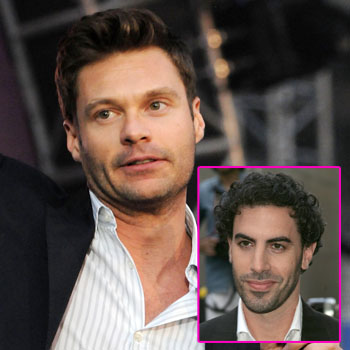 Article continues below advertisement
Sacha as Aladeen continued to offend when asked if he thought Hitler had been the greatest dictator.
He said: "It's like asking The Beatles, are they the greatest band?"
However, Aladeen did reserve special praise for the former leader of North Korea, Kim Jong-il. "He was the closest to me… in three-inch lifts," he revealed.
Before hanging up, Aladeen also mourned his family: "My mother died in childbirth. Of strangulation. My father died of natural causes. He was allergic to bullets. And my uncle is going to die in a helicopter crash later today."
During the E! red carpet pre-Oscar show, Baron Cohen dressed as Aladeen "accidentally" dumped the ashes of Kim Jong-il over Seacrest.
Before the spill, Aladeen revealed it was always the late leader's dream to attend the Oscars and he wanted to be sprinkled over Halle Berry's chest.
Ryan told his KIIS-FM listeners how Sacha had apologized to him during a chance back stage meeting during a recording of Saturday Night Live in May.
Article continues below advertisement
"He comes off stage, comes over to me, breaks character and says sorry about the Oscars, it wasn't personal," Seacrest relayed, adding that Cohen was "very very apologetic and genuine and kind and sweet."
Ryan then confirmed that this was his first meeting with Sacha since urn-gate and noted, "He apparently sent me a jacket that I think we donated to charity."
We wonder how Ryan feels about Sacha's latest outburst?
RELATED STORIES:
Sorry, No More Room! Was Ann Curry Banned From TODAY Bus?
Randy Jackson Keeping Mum On Idol Future, 'These Shows Keep Evolving'
Ryan Seacrest Defends Olympic Coverage Debacle, 'You Can't Please Everyone'
Sports Industry Slams Ryan Seacrest: Leave The Olympic Coverage To Us!