Ryan Seacrest 'Definitely Didn't Know' The Dictator Would Dump Ashes On Him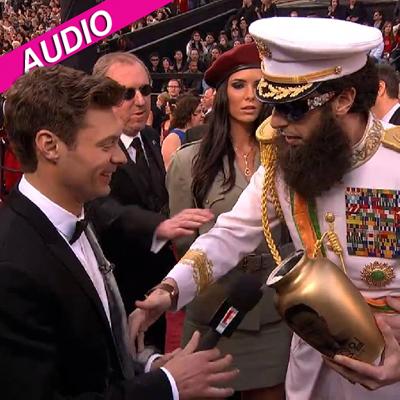 By Debbie Emery - Radar Reporter
Ryan Seacrest says he was surprised when Sacha Baron Cohen, dressed as the title character for his upcoming comedy, The Dictator, dumped ashes on him during a red carpet interview prior the Academy Awards Sunday night.
As RadarOnline.com previously reported, Cohen, dressed as his Dictator alter-ego, General Shabazz Aladeen,  "accidentally" spilled the supposed ashes of North Korea's Kim Jong Il all over the E! Host when he stopped to chat on the way into the Academy Awards. Seacrest and his crew were clearly stunned as his tuxedo was covered with the fake ashes, that also went all over Ryan's prime piece of red carpet real estate.
Article continues below advertisement
On his radio show on KIIS-FM on Monday morning, Seacrest said he was not tipped off about the stunt before he was dumped on, but he had an inkling that the British prankster had something up his sleeve after someone from the film's publicity office called to see if they would be interested in interviewing The Dictator.
Listen to the audio on RadarOnline.com
"When we said, 'Yes,' In the back of my head, I was thinking, 'This guy isn't really coming as The Dictator to not do something. To what extent, I don't know, whether it's something physical or a joke, I don't know.' He didn't put that costume on just to answer a couple of questions in character."
The multi-talented host soon found out!
"I definitely did not know that he was going to do that!" he said On Air With Ryan Seacrest. "He comes over, and I asked him a couple of questions, but…You know that feeling in your gut. You feel like, 'This is going too normally.'"
"I saw the urn coming up. It was getting closer to my chest, and then it tipped over, and it wasn't the wind. He spilt it on my tuxedo."
Article continues below advertisement
Sacha Baron Cohen Sued For $25,000
Despite being covered in powder, Seacrest didn't lose his cool, and luckily prepared for such a disaster thanks to good advice from his mother.
"My mom told me as a young, young live from the red carpet reporter, when I was a mini reporter, 'You always want to make sure to have two jackets. You never know what is going to happen, and you never know what you're going to spill on your jacket, because your job is to be red carpet ready – you are the host.' So I had another jacket.
Sacha Baron Cohen & Isla Fisher Quietly Welcome Second Child
"I was surprised but not surprised," said Ryan, about Baron Cohen's stunt. "There was an incident but there has been incidents in the past, you never know."
The quick-witted reporter even thinks he's figured out the main ingredient in the fake ashes. "Because I was watching my carbohydrate intake all week, I am just sure it was pancake mix! It's just ironic."