Sacha Baron Cohen Sued For $25,000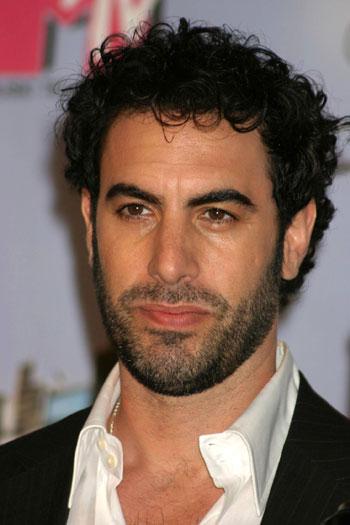 Mike Skiff, a Los Angeles credentialed cameraman, is suing Sacha Baron Cohen, his production company and several others for assault and battery, violation of civil rights, and inciting a riot. Skiff is seeking $25,000 in damages.
Read The Legal Documents Here
According to the lawsuit, on November 2, 2008, Skiff was photographing a Proposition 8 demonstration in Los Angeles. Bruno Productions, Baron's production company, was also at the rally, shooting for the film Bruno.
Article continues below advertisement
"In order to create dramatic content for it's production, Bruno Productions' intent was to promote violent discord between the assembled yes and no factions," the document states. "In start contrast with the 'ultra gay' Bruno character, members of the crew of Bruno Productions carried 'Yes On Proposition 8' signs contrived for the sole purpose of inciting and sparking unrest to enhance the dramatic effect of what they may capture on film."
Skiff says he was caught in the crosshairs of the protestors, and that he feared he was going to be clubbed with wooden signs. Furthermore, Skiff, who adds that he is gay in the documents, believes his civil rights were violated.
"Plaintiff, an accredited and licensed photo journalist, was covering an important civil demonstration on November 2, 2008, less than forty-eight hours before the election involving the issues presented by Proposition 8. Plaintiff is a homosexual, who openly documents news events of particular interest to that community. At the time of the subject event, Plaintiff's sexual orientation and the purpose of his presence as a news photographer were well known to Bruno Productions. Plaintiff sexual orientation was the very purpose of Bruno Productions perpetration of the violence and intimidation against Plaintiff: all for its own commercial benefit. Bruno Productions conduct was, inescapably, an egregious affront to the homosexual community, and a despicable example of discrimination, manifested by violence, intimidation and threats, perpetrated on Plaintiff."
MORE ON:
Sacha Baron Cohen
Article continues below advertisement
Bride Of Borat: Sacha Baron Cohen Marries In Paris
Skiff claims he "was injured in his health, strength, and activity, sustaining injury to his body and shock and injury to his nervous system and person, all of which injuries causes and continue to cause Plaintiff great physical, mental, and emotion pain and suffering."
Skiff is seeking $25,000 in damages, medical expenses, and attorney's fees.
RELATED STORIES: