Sacha Baron Cohen Dumps On Ryan Seacrest Live On Oscar Red Carpet!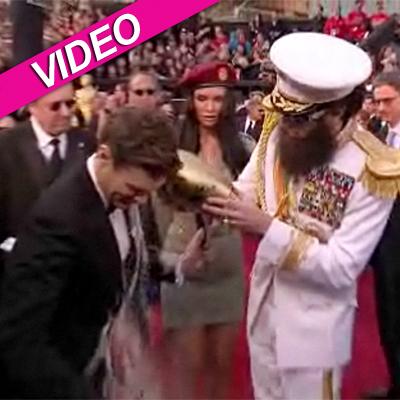 Sacha Baron Cohen had to win over Academy execs before they agreed to let him walk the Oscar red carpet in character as The Dictator. They -- and Ryan Seacrest -- are probably all regretting it!
In full costume as The Dictator, and carrying an urn he said was containing the ashes of yet another dictator, Sacha literally dumped the contents all over the E! News host.
Seacrest and his crew were clearly stunned as his tuxedo was covered with the fake ashes, possibly baking powder. The powder also went all over Ryan's prime piece of red carpet real estate.
MORE ON:
hollywood happenings
Article continues below advertisement
Security quickly pulled Cohen away and out of camera range.
Seacrest then had to explain the mess to his next several interview subjects, including Tina Fey, all of whom congratulated him for keeping his cool.
Afterwards, Seacrest tweeted, "My mom always told me to pack two jackets for red carpets, always wondered why. Now I know."
RELATED STORIES: