Bashing The Kardashians! Sacha Baron Cohen And Megan Fox's Hairy Jibe In The Dictator Trailer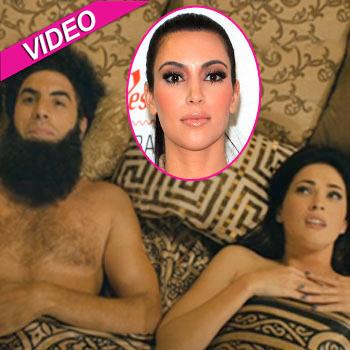 By Debbie Emery - Radar Reporter
Seems everybody is getting in on the bashing the Kardashians act these days!
First lady Michelle Obama, Daniel Craig, Cher and Reese Witherspoon have all made jibes, and now the reality family are the 'butt' of the joke in a hilarious new trailer for The Dictator.
Sacha Baron Cohen isn't shy about putting himself into uncomfortable situations, and making jokes at the expense of others, and his latest big screen venture may be his most excruciating yet.
Article continues below advertisement
The stand up comic-turned movie star experiences an awesomely awkward moment with Megan Fox and manages to bash the Kardashians, all in one scene, and RadarOnline.com has video footage.
The 40-year-old British actor plays General Aladeen, a dictator who bears an uncanny resemblance to deposed and deceased Saddam Hussein, who risks his life to ensure that democracy would never come to the country he so lovingly oppressed.
In the sneak peak of the comedy, his heavily bearded character is lying in bed with the Transformers star (playing herself), who he then turns to and tells: "Megan, you were worth every penny."
When he tries to pay her with a ruby, she asks: "Is this a joke? Am I a Kardashian?"
"Of course not," he replies. "You're much less hairy."
Ouch!
Borat star Cohen's fourth film is said to be inspired by the novel Zabibah and the King written by Saddam Hussein himself, it also stars Ben Kingsley, John C. Reilly and Anna Faris, and will be released in the summer of 2012.