Transgender Woman Claims Male Anti-Hair Loss Pills Sparked Her Transition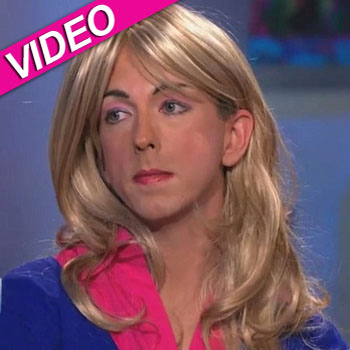 By Amber Goodhand - RadarOnline.com News Editor
A Florida man claims anti-hair loss pills changed his gender identity and he's now living as a woman, and he recently opened up to Anderson Cooper about his unexpected change and RadarOnline.com has a clip.
William McKee, 38, was a married father of one when he ordered a generic form of Propecia from an FDA-approved manufacturing plant in India and he claims that after just a few months on the pills, his body felt more feminine and he went through what he calls "a life and death struggle."
Article continues below advertisement
Now she's Mandi, and told Anderson that the changes in her body triggered a deep depression and her marriage shattered.
"I went into severe depression, and by the time I got to 2011, my marriage had ended and I was living alone," Mandi said.
"I was having physical feminisation symptoms in my body, breast growth, other symptoms like that, and emotionally I was having female type feelings as well."
After a long struggle, Mandi finally embraced her transgender identity.
"I said, 'I'm going to pick myself up and move forward.' I started going to counseling," she told Anderson.
But as a newly out face for the LGBT community, Anderson found Mandi's story hard to believe.
"These feelings about gender change don't come out of a prescription bottle," Anderson said.
Mandi admits to questioning her sexuality in the past, but said she never had a yearning to be a woman - until something in the pills triggered it.
Article continues below advertisement
"I had never worn a piece of women's clothing. I have admitted publicly on my blog and in a couple of other interviews that I told my ex-wife as I was going through this, and my family, that I had questioned my sexuality a little when I was younger," she said.
"I did have an uncle who was gay, and when I was younger I thought maybe... I questioned if I was bisexual, but I decided I liked women."
Mandi is no longer taking the anti-hair loss pills and claims the changes in her body have remained so she plans to continue with her transition.