Wheelchairs At Dawn! 'Murderball' Rugby Teams Face Off In Bloody Battle At The Paralympics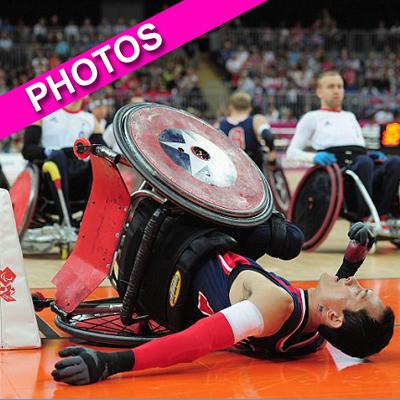 By Debbie Emery - RadarOnline.com Reporter
Some of the most dramatic and violent tackles in sports don't happen on the football field, but on the court at the Paralympics when the wheelchair rugby teams face off in bloody battles.
Aptly nicknamed 'Murderball,' the brutal competition was one of the biggest hits at the games in London on Wednesday when gold medal favorites, Team USA, faced off against the host team of Great Britain.
Article continues below advertisement
With wheelchairs being used as battering rams, bone-jarring hits at high speeds and violent bumper car-like collisions sending players flying through the air, the sport is not for the fainthearted!
The star of Great Britain's team is blue-mohawked David Anthony, who delighted the 10,000 capacity home crowd with his passionate screeching and intense play.
Invented in 1977 by a group of Canadian quadriplegic athletes keen to get more of an adrenalin rush than what was offered by wheelchair basketball, wheelchair rugby has two teams of four players attempting to carry the ball over a goal line. Physical contact between players is not allowed, but contact between wheelchairs is, and often encouraged.
"So it's like 200-pound sledgehammers coming in at full speed, 17 to 18 mph and just blowing each other up. But it's a lot of fun. It's a blast. It shakes your insides when it happens but we wouldn't be out here if we didn't love it," U.S. captain Will Groulx told Reuters, as he explained that players weigh from 120 to 240 pounds, plus 40 pounds of wheelchair on top of that.
Games consist of four eight-minute quarters and players use a white ball identical in size and shape to a volleyball, but the difference to an able-bodied sport is that each player is assigned a points value (0.5 to 3.5) based on their impairment.
Article continues below advertisement
During play, the total on-court point value for each team of four players cannot exceed eight.
Due to the high-speed hits that they have to endure, special wheelchairs are designed with a front bumper to strike and hold opposing chairs, and wings, which are positioned in front of the main wheels to make the wheelchair more difficult to stop and hold.
The U.S. beat Britain 56-44 in Wednesday's matchup and now the defending gold medalists will go on to face highly anticipated rivals Canada and Australia in front of some of the biggest crowds they've ever seen.
"Having 12,000 fans cheering was amazing, whether they were cheering for us or Britain you can't help but raise your intensity level. Beijing (in 2008) was a big crowd but this tops them all," said Groulx.
Unlike most sports, wheelchair rugby is a mixed-sex competition and Britain's Kylie Grimes is one of two women battling it out on the court at the games. Grimes, who was paralyzed from the chest down after hitting her head diving into a friend's swimming pool, said she doesn't mind playing with the boys in the aggressive sport. "I don't know any other way," she explained.
Article continues below advertisement
While it has been an official Paralympic sport since the Sydney games in 2000, wheelchair rugby first earned worldwide notoriety with the 2005 documentary film, Murderball, which followed a team of tough-as-nails players who had all been paralyzed from car wrecks, fist fights, gun shots, or rogue bacteria, and despite being forced to live life sitting down, had refused to give up fighting as they smashed the hell out of each other in Gladiator style wheelchairs.