Superhumans Take The Field! The Most Inspiring Stories Of The Paralympics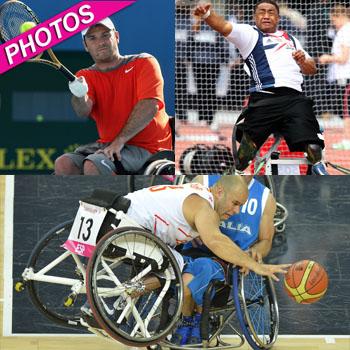 By Debbie Emery - RadarOnline.com Reporter
The 2012 London Olympics may be over, but the flame is still burning brightly as the Paralympic Games kick off Thursday, celebrating the athletic achievements of hundreds of physically disabled sports stars.
Scientist Stephen Hawking was center stage at the Olympic Stadium in London Wednesday night to welcome the aspiring medal winners during the opening ceremony, with dozens of disabled performers – including 42 who were sent to circus school to perfect their act – joining able-bodied athletes for an awe-inspiring show.
Article continues below advertisement
The Paralympics have grown from a small gathering of British World War II veterans in London in 1948 to a spectacular gathering of 5,000 athletes who will compete for 170 gold medals, watched by excited crowds that will include Prince William and Kate Middleton, and Prince Harry, home from his controversial and scandal ridden party trip to Las Vegas.
In honor of their strength in the face of diversity, RadarOnline.com has compiled seven of the most inspiring stories of the Paralympics.
7. British competitor Dave Bracher planned to take up marathon running three years ago to ward off middle age spread. Before he could begin training he contracted two rare viruses -- Guillain–Barré Syndrome and Acute Disseminated Encephalomyelitis that left him in a "locked-in" state -- meaning for 10 days he could hear what was going on around him but all he could do was blink -- and after a lengthy recovery he was left a paraplegic.
Article continues below advertisement
"I didn't believe the doctors. My attitude was that I was determined to prove them wrong – determined would be a nice word for it," he told the Telegraph.co.uk . "Some might call it pig-headed."
Last year the 44-year-old finally completed his dream to finish a marathon after convincing organizers to let him complete the course in a standard wheelchair and he now has the honor of being a torch-bearer for the Paralympics.
6. U.S. Army 82nd Airborne paratrooper Centra "Ce-Ce" Mazyck, was paralyzed when her parachute got tangled with another in 2003, "I remember trying to get up, but I couldn't move. My legs were crossed and when I tried to roll over, I knew something was wrong," Ce-Ce recalled.
Doctors said she'd never walk again but Maczyk refused to listen. "I wasn't hearing it. In my heart, in my soul, I knew I could walk," Mazyck told NBC News. "To this day, I am walking."
Article continues below advertisement
Now she is not only walking – she's throwing for the USA javelin team. "This is my second chance," said the single mom.
5. Paul Blake's life was a battle before it even began when his twin brother took all their mother's blood in the womb, leaving him starved of nutrients. "I was virtually dead," said Blake, of Dorchester, England, who developed cerebal palsy from his birth complications, reported the Telegraph.co.uk. Fast forward 22 years, and the baby who spent two months on an incubator is the world record holder in the 1500m and world champion at 400m.
Now competing in the 400m and 800m races, Blake said: "Two golds is the dream. I'm competing at my first games so even if I get a sniff of a medal it would be amazing."
4. Sport fanatic David Wagner grew up playing basketball, tennis and golf, but it was a violent wave that hit him as an athletic 21-year-old playing frisbee on the beach that changed his life forever. "I landed on my neck and became paralyzed," he revealed. "At first, I didn't know what went on until my buddy pulled me out of the ocean and put me on the sand. I just kept saying, 'Oh I just have a stinger and in a while I'll be back to normal and be back up. Let me lie here and shake it off a bit.'"
Article continues below advertisement
That never happened, and Wagner quickly had to to come to terms with the fact that he was confined to a wheelchair, paralyzed from the mid-chest down. Unable to break his competitive spirit even while he was still in hospital, the Hillsboro, Oregon native began playing ping pong with his buddies and is now the top wheelchair tennis player. The 38-year-old is heading to London to defend not only his Paralympic gold medal in the doubles but also his ranking as the world number one.
Seven Things You Didn't Know About 'The World's Fastest Man' Usain Bolt
3. Just last September, Lt. Bradley Snyder was a member of the Navy in Afghanistan when he was blinded by a bomb and doctors were forced to remove his eyes. Within a month of the accident, the former member of the Navy swim team was back in the pool, where he uses two canes to stop any accidental collisions with fellow swimmers as he blasts through the darkness.
Article continues below advertisement
At one end of the pool, his swimming coach stands above Snyder's starting block, clutching a walking cane affixed with a tennis ball, reported NBC.News.com. As Snyder nears that hard edge, his coach leans down, extends the cane and taps the Navy officer on the back of his head with the ball, alerting him to abruptly finish his stroke and execute a flip turn to swim to his brother who does the same at the other end of the pool.
2. Move over Missy Franklin, there's a new swimmer in the pool for Team USA! Jessica Long, 20, is already a two-time Paralympic competitor with nine medals, including seven gold, under her belt. Born in Siberia, Long was adopted from a Russian orphanage at 13 months old and just five months later, both her legs were amputated below the knee because of a congenital condition that left her without most of the bones in her feet and lower legs. Jessica refused to let her disability hinder her though and after starting off competing in gymnastics she dove into a Baltimore pool (coincidentally the home town of Olympic record-breaker Michael Phelps) and by 12 she was the youngest member of the U.S. Paralympic team at the 2004 Games in Athens.
Article continues below advertisement
After getting burned out on the sport during her teenage years, Long is back competing in seven individual events and two relays and promises fans: "We know what I can do and I'm swimming my heart out," reported BBC.co.uk.
Family Heartache Behind Gabby Douglas' Olympic Golds, 'My Dad Left Us'
1. As a soldier in Afghanistan, Private Derek Derenalagi is experienced at serving his country but this week he will be representing Great Britain in the games instead of on the front line. The 34-year-old lost both his legs in a 2007 bomb attack by the Taliban that left him so badly injured he was assumed to be dead and zipped up in a body bag.
Five years on, Derenalagi will proudly display Britain's Union Jack flag on his prosthetic legs when he competes in the discus competition, despite still suffering intense pain from his injuries. "They thought I was dead…I was still in the world," said the brave veteran from Bushey, Hertfordshire. "I'm no superman. There have been low points, but if I feel down I remind myself of those who didn't make it home."