Bully's Brutal Bus Beating Of Teenage Boy Caught On Camera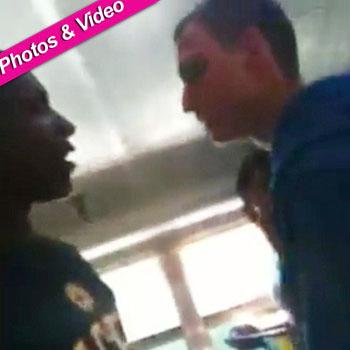 It's another story of schoolyard bullying meeting social media, with a twist.
The son of Indiana woman Lora Hoagland, who worked a successful campaign to get free bussing for students in her son's school district, was brutally beaten by another student on a bus in an incident that was subsequently posted by the assailant to Facebook.
It "cut through me like a knife -- no mother wants to see her kid get beat up on for standing up for what's right," Hoagland told ABC of the video in which her 14-year-old boy, Caleb Jones, was beaten by a mercurial classmate over the bus seat he'd chosen.
Article continues below advertisement
"I don't think I deserved it," said Caleb, a student at Franklin Township Middle School East.
The attacker wrote "'lmao dat lil expletive dat wassnt nun i hit him three times nun major yaa-noo'" on the video chronicling the beating. The 15-year-old was arrested for battery and disorderly conduct and suspended from the school in connection with the shellacking.
Hoagland said she's taught her son "to stand up for what's right, but no mother should have to witness that. No kid should have to go through that."
Hoagland told the Indiana Star she was upset with the bus driver's lack of response.
"The kid proceeds to just whoop on my kid," Hoagland said. "The bus driver was sitting on the bus."
Hoagland said she wants the attacker banned from the bus and expelled from the school district. She subsequently wrote on Facebook, "Someone will pay, in more ways than one. They have woken up a screaming giant."
The school district responded to the incident with a statement on its website: "The Franklin Township Board of Education and administration hold the safety and security of the students and staff as a high priority. We were notified of a concern regarding a bus incident in which a student was injured. Franklin Township Community Schools took immediate action including both our law enforcement and the IMPD following those safety protocols and procedures.
Article continues below advertisement