Exclusive
Spice Girls Reunion Tour Being Planned: Show Will Go On With Or Without Victoria Beckham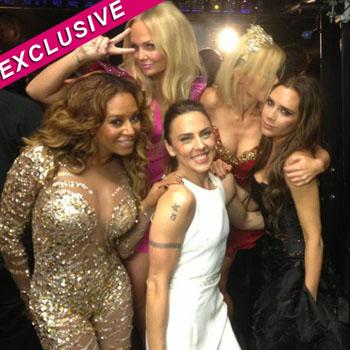 Article continues below advertisement
"Mel B thinks the perfect time to do a reunion tour would be around the time the Spice Girls musical premieres in London on December 16 and wouldn't need to be a full scale world tour that would last for months, rather they could perform in Los Angeles, New York City, Chicago, London and other big cities to promote the musical. The ladies are ready to perform with or without Posh Spice."
As previously reported, The Spice Girls were prepared to perform without Beckham at the Olympics Closing Ceremony, but when she learned that the band would perform without her she had a change of heart.
"Victoria obviously recognized that if she didn't join the band for the closing ceremony it would look really bad. Victoria is very grateful for the platform the band has given her, but she just likes to create distance from that time in her life because she wants to be taken seriously as a fashion designer. Ultimately though, the band came together and did a hell of a job in their performance. Victoria was gushing afterwards that she was so glad she had decided to do it," the insider previously said.
Article continues below advertisement
The Spice Girls wowed viewers of the Closing Ceremony and the ladies performed a medley of their 90's hits, and all looked fantastic in their outfits that represented their persona with the band. Beckham wore a revealing black gown that showed off her gorgeous gams, and Mel B wore a form fitting glitter bodysuit, which complimented her toned physique.
"Mel B is the mama bear and de facto leader of the Spice Girls and it's no secret that she and Vicky have had their differences over the years," the source says. "However, Mel has been extremely diplomatic and sincere when talking to Vicky about doing the reunion tour and is hopeful that she will relent and agree to do it. Mel B is very persuasive and always gets what she wants and she has appealed to the fact that Vicky now has a daughter. Mel told Vicky it's time to show little Harper what girl power is really all about!"