Russell Brand's Spicing Up His Life With Geri Halliwell: They're Dating!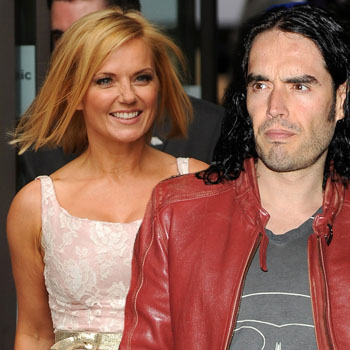 Russell Brand is spicing up his life – he's dumped his yoga-practicing girlfriend for 'Ginger Spice' Geri Halliwell, according to reports.
UK tabloid The Sun claims that the 37-year-old comedic actor split with Isabella Brewster earlier this month to be with the Spice Girl and they are in a "very serious" romance.
Russell even took Geri, 40, and her 6-year-old daughter Bluebell Madonna on a tour of Hampton Court Palace over the weekend.
Article continues below advertisement
"Things are getting very serious between them — they're a proper couple now. They had met several times in the past, but really got to know each other during the Olympics," a source told the British paper.
"People thought Russell was joking at the time, when he said he had a crush on Geri all over again, but it was true.
"They just clicked — they have so much in common.
"He is spending so much more time in London just to be with her."
The pair fell for one another while rehearsing for the closing ceremony for the London 2012 Games.
An onlooker who spied Russell and Geri at the historical London site revealed: "I thought it was the most random thing ever to see Russell Brand of all people in a place like that — until my wife pointed out he was with a Spice Girl. They seemed like they were having a really great time, holding hands and chatting — it was 100 percent obvious they were a couple."
Article continues below advertisement
And a close friend of Russell confirmed: "He ended his relationship with Isabella Brewster, and is now dating Geri properly.
"They've exactly the same sense of humor and are serious about clean living."
Interestingly enough, in an interview after the Olympics finale Russell said: "I've got a crush on Geri Halliwell — everything in the world is how it should be."
RELATED STORIES: