Russell Brand Confirms Radar's Exclusive: I Am Dating Isabella Brewster!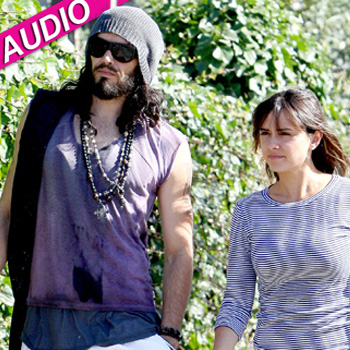 By Neil Woulfe - Radar Senior News Director
Told ya so!
Two days after RadarOnline.com was first to report that Russell Brand was dating former CAA talent agent Isabella Brewster,
the British funnyman confirmed Wednesday the two are in fact an item.
Brand -- whose divorce from Katy Perry just became finalized this past Monday -- has been recently spotted out and about with Isabella, who's the little sister of actress Jordana Brewster, one of the stars on the new Dallas reboot. (Jordana also appeared in Fast & Furious.)
Article continues below advertisement
Speaking about Isabella on Howard Stern's radio show, Brand said: "Some things in the newspaper aren't true ... that's true, actually," adding that he's "just kind of enjoying the freedom" of being single.
The Arthur star indicated that someone -- probably Isabella -- was with him in bed during the radio interview with Stern.
Listen to the audio on RadarOnline.com
As we previously reported, Isabella has dated a slew of Hollywood hunks. The beautiful brunette romanced Bradley Cooper in 2009 and most recently, in 2010 dated Heroes star Milo Ventimiglia.
A source tells Radar that the duo, who met through mutual friends in recovery, has been spending a significant amount of time together over the past few weeks, but that they are keeping it casual for the time being.
Brand also opened up to Stern about his ill-fated marriage to the Firework singer, which ended in divorce after only 18 months.
"Before we got married, I just thought, 'I've got to marry her, I just love her so much.'" Brand told Stern.  "And then we got married and I thought, 'Okay, this isn't really working out.'"
Article continues below advertisement
But, ever the gentleman, Brand insisted there's absolutely no bad blood between the former lovers.
"It was a lovely relationship ... it mostly didn't work for practical reasons ... We did work it out, she's happy, I'm happy," he added.
When asked why he walked away from his marriage to Perry without trying to score half of the $44 million she earned during their union, Brand said "I've got a good job. I'm not into taking money from women."