Katy Perry Breaks Down In Tears Over Split From Russell Brand In 'Part of Me'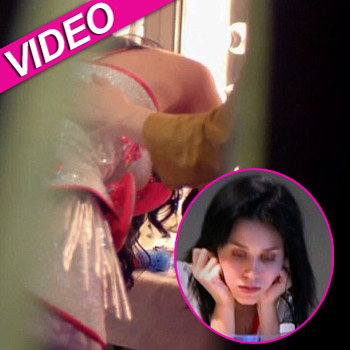 She promised she'd share every part of life in her documentary film, for good or for bad.
And Katy Perry stayed true to her word by allowing the moment that she discovered her husband Russell Brand had filed for divorce to remain in the footage.
The raw moments in the film unveil a drastically different side of the bubblegum pop star, who is rarely seen without a beatific grin plastered across her face. The documentary shows Perry, 27, collapsing in tears backstage in Brazil over the breakdown of her relationship with the 37-year-old British comedian.
Article continues below advertisement
But the music sensation complies to the old adage that the show must go on, and is next seen putting on a brave face to hit the stage with a smile.
Perry's documentary, which hits theaters July 5, juxtaposes the singer's theatrical, Technicolor concerts with the unraveling of her short marriage.
Brand, who married the singer in India in October 2010, does appear in the documentary but is more notable by his absence. Perry is seen struggling to maintain the relationship, amidst her grueling touring schedule. "I'm fighting to keep my marriage alive," she says at one point.
A friend interviewed in the film notes that Perry "should be resting, but she wants to fly to wherever Russ is to show she cares. She's running herself ragged."
During another scene, Brand texts Perry, suggesting they name their children after Ronald McDonald. Perry, a decade younger than her husband, texts back: "Babies can't have babies, and I'm still a baby."
Later, after the divorce bombshell is delivered, Perry tells the cameras she still misses Brand. "I'm a romantic and I believe in the whole fairytale," she says. "Love is a dream, but the reality is making it work. I did everything I could — but it still failed."