Katy Perry Defends Kim Kardashian Marriage, 'Nobody Knows What Really Happened'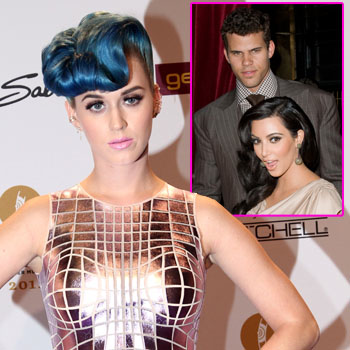 Article continues below advertisement
Perry's upcoming film, which she spent $2 million of her own money to finance, will feature the struggles of continuing her tour while dealing with her failed relationship.
"There were times when what was going on in my personal life was so overwhelming that I had to bend over to let those tears fall straight out of my eyes and not my false lashes just as I'm about to go up on that ramp and sing Teenage Dream," she dishes.
"Like how I write my songs, honesty has always worked for me," she says about why she decided to reveal the hardship to her fans in the film. "So if it ain't broke, why f---ing fix it?"
But don't put the former Christian singer on a pedestal!
"I'm no poster child for Christianity," she admits.
RELATED STORIES:
Katy Perry Punches Prince Charming (Russell Brand?) In New Video
2012 MuchMusic Awards: Katy Perry Wears VERY Revealing Nude Bodysuit