Russell Brand Blasts Graham Norton For Asking About Katy Perry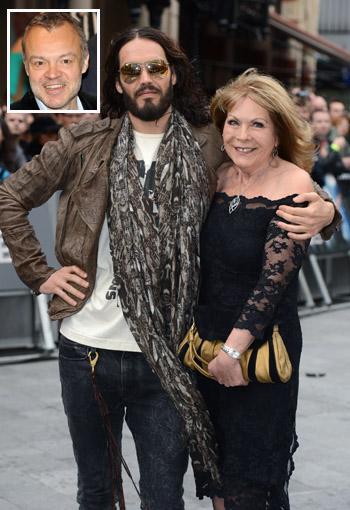 Russell Brand went after popular BBC talk show host Graham Norton for asking about his ex-wife Katy Perry.
Brand was on the show Friday promoting his new film Rock of Ages, and when Norton brought up the subject of the comic actor's failed marriage, he started to fume.
'My mum is here. She got upset when you dragged up my marriage," Brand said, pointing out his mother Barbara who was sitting in the audience.
Article continues below advertisement
"I saw her cry, Graham. That's the reality because it's real people, Graham, that's my real mum. I have come here to promote a film and you made my mum cry. I don't see you as that sort of person, Graham."
Norton tried to explain that it "would have been weird" to not ask about Perry, who coincidentally had been a guest on the show just a week earlier.
But Brand would have none of it and accused Norton of sneaking questions about the divorce into the interview.
He said, "What I would have done, mate, in your position is come up to me before the show and gone 'Eh, listen it's a bit odd your ex-missus was on last week. I might mention it, is that OK?' But in all of the chatting and the research backstage, no one mentioned it."
Russell did finally address the divorce, but not without taking a final swipe at Norton. "If people get divorced, maybe that is a sad thing. I don't know what is your show about?'