Katy Perry: 'I Still Believe In Love, Most Definitely'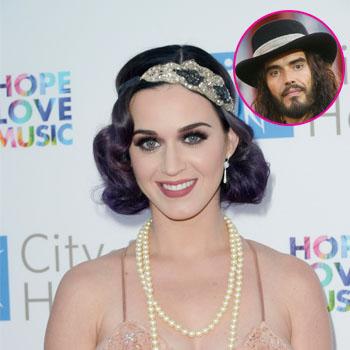 Katy Perry says that despite her failed marriage to comic Russell Brand, she still believes in love.
Asked if she can balance her superstar career and a healthy love life, Katy -- who's been seen with Florence + The Machine guitarist Robert Ackroyd in recent times — said, "The answer is always changing for me, you know, because every day is kind of a bit of a surprise.
"I still believe in love, most definitely. I'm just going to let that take the lead."
Article continues below advertisement
The Wide Awake singer tells the AP she cried "tear ducts" in her new 3D film as the breakdown of her relationship with Russell was documented while she wrapped up her yearlong tour in support of her album, Teenage Dream.
While Brand is seen on camera in various scenes, his presence is reduced to a series of phone and text messages by film's end.
"I think it was important for me to leave some of the more difficult things in the film so that it wasn't just a narcissistic fanfare film about how great I am," Katy said.
"Because I'm not all great … I think it was important to show that there are obstacles and problems in people's lives and it's OK if you have them -- you just have to overcome them."
The 27-year-old Firework singer says the adulation of her fans served as a "support system" rather than a replacement to the emotional void left as her relationship with Brand deteriorated.
She mused on her pre-fame days to explain how her fans have always been a helping hand in her travels.
Article continues below advertisement
"It's exactly like when I was signed to major labels and dropped," she said. "And the guys that really didn't understand my artistic vision were like, 'No, we're not going to put her record out.' I packed up my things and went to Hotel Cafe, here in Los Angeles, which is a tiny venue. And I played my songs.
"And people were supporting these songs and they were telling me that this was the right thing to do -- so there is no void filled -- it's just that it's always been there."