Celebrity Twitter Pics Of The Week! The Good, The Bad & The Outrageous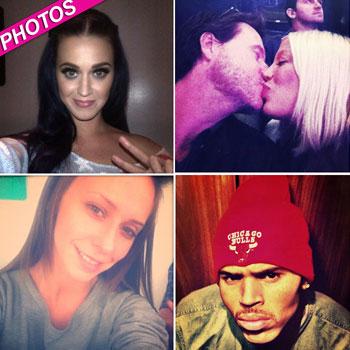 RadarOnline.com Features Editor
Stars love sharing their personal photos on Twitter!
From showing off their scantily clad bodies and makeup-free faces to sharing intimate moments with their significant others, Hollywood's hottest celebrities posted good, bad and outrageous snaps on their social media accounts this week – and RadarOnline.com has the 10 most memorable images in our weekly feature.
Article continues below advertisement
No Kiss Cam, no problem! Tori Spelling and Dean McDermott didn't make the cut during the Los Angeles Kings and Vancouver Canucks NHL playoff game, so the desperately in love duo took their own smooch snap and shared it with their fans.
Welcome Back To Twitter, Demi Moore! The recently rehabbed and soon-to-be divorced star checked in on her social media account after several months of absence, still using her @mrskutcher name. However, two days later , she let everyone know that she's ready to move on. "Time for a change, twitter name change... any suggestions?"
It's hard not to hassle The Hoff when he engages in animal cruelty! David Hasselhoff was snap-happy at the Coachella Music Festival, but went a little over the top with a photo of his bikini-clad fiancée in a compromising position – while he clutched onto a helpless duck. Is he going quackers?
Jennifer Love Hewitt isn't afraid to bare her naked face! The Client List star showed off her natural side with a makeup-free photo, while Fashion Police host Joan Rivers shared a photo of her new, scary purple hair streaks.
What other stars shared good, bad and outrageous photos on Twitter this week? Find out by clicking here.