EXCLUSIVE NEW DETAILS: Katy Perry Wedding Featured Hookah Tent, Obama Connection & Sick Guests!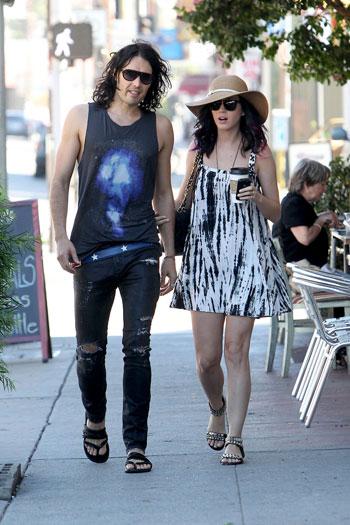 Katy Perry and Russell Brand tied the knot surrounded by 70 of their closest friends and family members last month, and RadarOnline.com has learned new details about their Indian wedding.
"The wedding was so fun that it was almost exhausting!" an insider told RadarOnline.com in an exclusive interview.
"They put everyone up at the Aman-i-Khas and even had saris and turbans sent to everyone's rooms so they could wear them to the rehearsal dinner."
Article continues below advertisement
According to the source, the wedding was done by famed Beverly Hills party planner Mindy Weiss and boasted a hookah lounge tent, a dance tent, daily activities set up for all the guests and was done in traditional jewel tone colors.
"The invitations were really cool because they were done by the same guy who made the Barack Obama 'Hope' election posters," the source said, naming Shepard Fairey, who was also in attendance to the wedding.
Article continues below advertisement
"The only bummer to the wedding is that it was so hot in India and they had all the tents air conditioned, so a lot of people got sick from going in and out of the heat and cold," the source said.
"They had no band and no performer at the wedding, just a deejay.
"One of the cutest things is that Russell rode into the ceremony on an elephant, but there was another elephant walking beside his because apparently they're fraternal twins and can't be separated or else they'll both have panic attacks."
Despite rumors of a spider bite impeding on the couple's Maldives honeymoon festivities, Perry posted a message on her Twitter account Wednesday shooting it down.
"I've not been bitten by a spider. I'll file this 1 in the ever growing cabinet of false information that has been at it's PEAK as of late…" she wrote.
One fan wrote back to her saying she'd been bitten by the love bug instead to which she enthusiastically replied, "Now this is true!"