Exclusive
EXCLUSIVE INTERVIEW: Katy Perry's High School Crush Reacts To Her Public Diss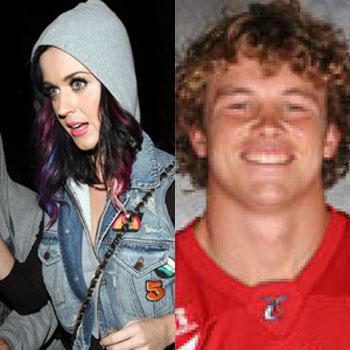 Katy Perry's high school crush is brushing off her sarcastic shout-out to him at her at their old school. He told RadarOnline.com that it was "kinda embarrassing" but "cool."
EXCLUSIVE: The High School Quarterback Who Broke Katy Perry's Heart
"I turned red when she called out my name, I mean there's only so much I can say because I didn't have the microphone so I couldn't form a rebuttal or talk any crap back," said Katy's former Dos Pueblos High School classmate Shane Lopes in jest. "I thought that would be kind of funny if I was on stage and we were going back and forth."
Article continues below advertisement
It all happened on Tuesday when Katy returned to their alma mater near Santa Barbara, Calif., and spotted Shane in the crowd: "You were the most popular kid in my class!" she told the audience looking right at Shane. "You never wanted to date me, it was always Amanda Wayne. You really chose right, honey. What's up now!? I'm going to dedicate this next one to Shane Lopes." She then started strumming her guitar and sang her hit song Ur So Gay.
"I thought it was pretty cool," Shane confessed. "I haven't seen her in awhile. We went to elementary school together…I just know her as Katy Hudson so to see her as the famous Katy Perry is kinda hilarious!
"I was just sort of giving non-verbal reactions to all the things she said, I was mostly laughing," laughed the former high school quarterback who now coaches the same team. "But I wasn't able to talk to her in person. I really wanted to but I had to go to football practice at the high school. I wanted to say 'what's up!'"
Article continues below advertisement
But unrequited love is not quite what Shane remembers in the hallways.
"That whole story is pretty fabricated. I never got the feeling that she had a crush on me. We've always been friends. I think it was more for entertainment and she was figuring out a way to segue into her next song and kinda embarrass me just for fun.
"I didn't expect it, but I wasn't shocked because that's just her personality. She's always been that way—very outspoken, goofy and she's just a funny girl. It's no different than the Katy I knew before."
So now that the I Kissed A Girl singer is a worldwide sensation, does Shane wish he could turn back the clock? "No, I don't have any regrets," Lopes said. "I'm actually engaged to my high school sweetheart!"
Despite not getting the guy, Katy still left a lasting impression.
"I can speak for the rest of the class when I say we all knew she had a gift so I wasn't surprised when she came out with a hit," he added. "Not everyone can say they know someone that famous, but with her personality and talent I remember thinking to myself when I was younger 'maybe she has a chance, maybe it's a star in the making.'"