Exclusive
EXCLUSIVE: The High School Quarterback Who Broke Katy Perry's Heart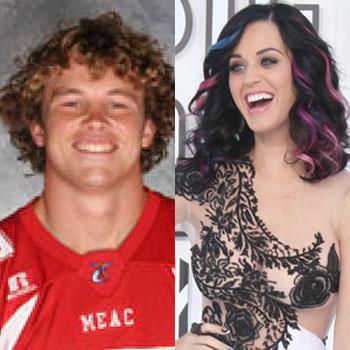 On Tuesday, Katy Perry returned to her Santa Barbara high school to perform and got a shock when she noticed a former classmate in the crowd. RadarOnline.com has all the details of Perry's former crush who she dissed for allegedly dissing her when they were teenagers.
"Is that Shane Lopes?" Perry said in a break between songs. "You were the most popular kid in my class! But you never wanted to date me, it was always Amanda Wayne. Oh yeah, you really chose right honey. What's up. What's up now, player. I'm going to dedicate this next one to Shane Lopes everyone. "
Article continues below advertisement
She then launched into a rendition of her song Ur So Gay as the crowd cheered and howled in laughter.
So who is Shane Lopes?
In high school, he was the quarterback for the Dos Pueblos High School in Goleta, Calif. He helped the 2002 Chargers football team advance to the CIF-SS Div. 4 Final- then a school first. At the time, the team also held the school's best team record of 11-3. The year before, he helped keep team morale up after their coach was arrested on two felonies for marijuana cultivation and methamphetamine possession.
"We couldn't let all the work go down the tubes," Lopes, then a junior, told the LA Times. "We all decided we were going to have to handle this maturely and not let it offset our season."
The 5'10, 195-lbs. stud eventually went on to play for the Delaware State Hornets as quarterback. Lopes wore the #18 jersey. In 2005, he was sidelined with a hamstring injury. He previously attended the University of Arizona.