2012 MuchMusic Awards: Katy Perry Wears VERY Revealing Nude Bodysuit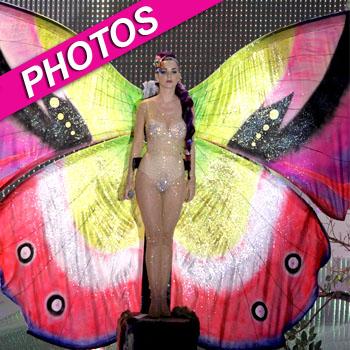 Talk about fireworks.
Katy Perry dared to bare in a sparkley nude bodysuit with giant butterfly wings at the 2012 MuchMusic Awards in Canada Sunday night, and RadarOnline.com has pics of the sultry singer and other celebs on the red carpet.
Perry had three costume changes during the evening, but she wore her most daring outfit -- complete with a long purple ponytail -- while she performed her new single Wide Awake.
Article continues below advertisement
While the costume helped spice up her performance, Perry seemed a little embarrassed when she still had the outfit on when she accepted one of her two awards for the night.
"I had no idea that I was going to win an award after I performed or I would have worn more clothes," Perry said -- using the black bar trophy to cover her backside as she walked off stage.
Perry's music video for Wide Awake will have its world premiere Tuesday. In an interview with MTV News airing Tuesday, Perry talked about the song's significance. "I just wanted to tell a story about myself going through this journey, maybe sometimes trying to get out of the maze," she said. "There's good parts, there's bad parts. Of course, there have been a lot of things that went on last year that I had to get through and overcome. I think what probably kept me going is just the purity of my belief in music."
The video for Wide Awake premieres Tuesday at 7:53 p.m. ET on MTV, followed by an exclusive 30-minute interview with the singer and MTV's Sway Calloway on MTV.com. Perry will talk about the song as well as her upcoming 3-D concert film, Katy Perry: Part of Me.
The Wide Awake video will also debut on VH1, Logo and TeenNick, in addition to MTV.com, VH1.com and LOGOtv.com. Her fans around the world will be able to stream the video online at KatyPerry.MTV.com.