Exclusive
Say It Isn't So! John Mayer Dumps Katy Perry After Just Weeks Of Dating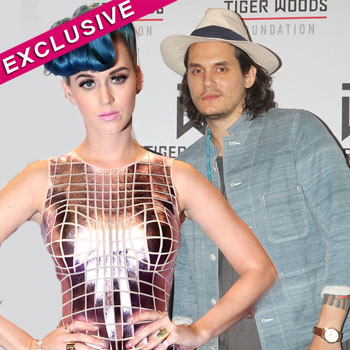 John Mayer, the lusty lothario has struck again, this time breaking the heart of Katy Perry, after just weeks of dating, RadarOnline.com is exclusively reporting.
The infamous ladies man proved he hasn't changed his ways when he unceremoniously dumped Perry despite wooing her with promises of him being a reformed man, and the pair have not remained friends.
"John did a real number on Katy," a source tells RadarOnline.com. "She held off from his advances for the longest time, but he laid on the charm thick and promised her he was a changed man. She eventually gave in, fell head over heels for him and then - yep - once he had made his conquest, he dumped her."
Article continues below advertisement
Meanwhile, there appears to be no love lost between Mayer and Perry. A source spotted the former couple at a mutual friend's dinner party on Tuesday night and they completely ignored each other!
"It was so weird! Katy stayed in one room the whole night and John stayed in the other and when they passed each other they both just kept their head's down. It was like they had this incredible animosity for each other and everyone else at the party could feel it," an eyewitness tells RadarOnline.com.
"You could cut the atmosphere with a knife. It was all incredibly high school!"
Despite the fact that the cold front was putting other party guests on edge, Katy and John both stayed until after midnight and continued to ignore each other the whole time, the source says.
But at least the pop stars, who were planning to make beautiful music together in the form of a duet, seemed to have moved on from each other.
Katy was busy chatting to a hot blonde model in a hipster Fedora, while John made time with a busty brunette cougar type.
RELATED STORIES:
Can Lothario John Mayer Change His Spots? Katy Perry Thinks So!
Katy Perry And John Mayer Have A Party Date
Wet & Wild! Katy Perry & John Mayer's Hot & Heavy Pool PDA
Russell Brand Smoked Heroin On Camera, Admits "I'd Rather Be A Drug Addict"