Exclusive
She's Just Not That Into You! John Mayer Getting The Cold Shoulder From Katy Perry!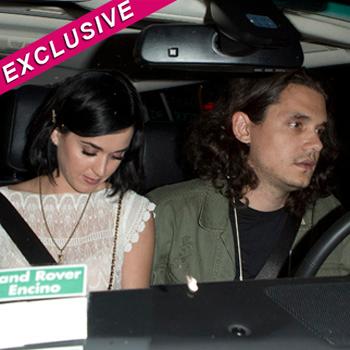 Article continues below advertisement
"The only sweet sounds they'll be making together will be in the recording studio," a source revealed. "Katy just isn't attracted to John in that way – she has tons of respect for him as a musician - but doesn't want to hook up with him.
"John suggested they should work together on some tracks and Katy is toying with the idea.
"She also knows that John has a soft-spot for her and she's using that to her advantage and loves the attention of being seen with good-looking guys.
"But for now, John will have to get used to being Katy's friend because she has zero interest in getting together with him and even gave his earlier advances the brush off," the source said.
Katy's love life has been under the microscope since her divorce from husband of just over a year, Russell Brand.
Their world-wind romance culminated in an Indian wedding in October 2010 – but they soon drifted apart and announced a split in December 2011.
Article continues below advertisement
Katy was then seen in the arms of another man, Florence + The Machine guitarist Robert Ackroyd at the Coachella music festival in April last year.
However, in a recent interview with USA Today Katy revealed that their relationship had cooled off.
"That's not even appropriate to label," she said.
"There are times I go out and meet people and flirt, but it's not really appropriate to have anything serious."