Exclusive
New Claims Rebecca Zahau Murdered Jonah Shacknai's Son Are 'Preposterous,' Says Zahau's Sister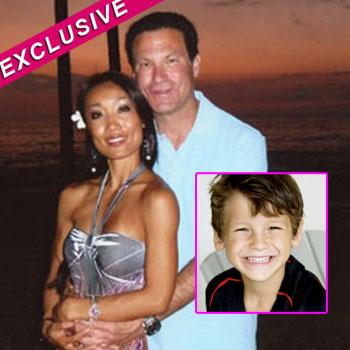 By Jen Heger - RadarOnline.com Assistant Managing Editor
It has been one year since Max Shacknai, the six year old son of multi-millionaire, Jonah Shacknai was found dead at the base of the stairs of his father's Coronado mansion, and several days later the pharmaceutical executive's girlfriend, Rebecca Zahau, was discovered naked and hanging from a balcony.
Jonah's ex-wife, Dina, mother of Max, has broken her silence and turned over medical evidence to the Coronado Police Department claiming her son was murdered and pointing the finger of blame at Rebecca — an allegation her sister, Mary Zahau, vehemently denies, telling RadarOnline.com exclusively that "the thought that Rebecca would cause Max harm is preposterous."
Article continues below advertisement
"We believe the homicide conclusions are unsupported. From our own personal observations of Rebecca with Max we saw nothing but a close, loving relationship between the two," Mary Zahau tells RadarOnline.com exclusively.
"Rebecca loved Max as if he was her own son. While our family shares the grief over Max's death, the thought that Rebecca would cause Max harm is preposterous. The California Attorney General is presently reviewing the file at our request. We urge the public and the media to wait for facts and to not be distracted by shiny press releases sent by public relations firms touting paid experts' speculation. We also urge those who caused Rebecca harm to turn themselves in to law enforcement. Only then can both families begin the healing process."
As previously reported, Jonah Shacknai was dating Rebecca Zahau, who was found nude and hanging from a balcony at the Medicis CEO's mansion in Coronado, a wealthy suburb of San Diego, just two days after young Max Shacknai was found unconscious at his father's house. Max later died from his injuries. The San Diego Medical Examiner determined that Max's death was accidental, and the San Diego Sheriff's Department concluded that Rebecca's death was a suicide, something her family vehemently disputes.
Article continues below advertisement
Dina Shacknai hired two medical experts to review her son's autopsy results and they concluded her son was allegedly assaulted and forced over the balcony inside her ex-husband's mansion. "I can't imagine anyone in the world wanting to harm Maxie," Shacknai told FoxNews.com "He was the most sweet, loving and gentle boy."
Rebecca Zahau was taking care of Max on July 11, 2011, at her boyfriend's house, who wasn't home at the time. Rebecca's 13-year-old sister was the only other person in the house at the time of Max's accident. Max's body was found in the entry way of the Spreckles Mansion, which Jonah has since sold, with broken pieces of a chandelier next to him.
Dr. Judy Melinek, one of the forensic experts hired by Dina, told FoxNews.com, "I do not disagree with the coroner's determination that the cause of death was due to blunt force trauma. What I did disagree with was the manner of death, which I believe was a homicide."
Dina Shacknai will be featured on Dr. Drew Pinsky's show on HLN Tuesday night at 6 p.m. PST - 9 p.m. EST.
RELATED STORIES: