Accused Wife-Killler Drew Peterson Denied Mistrial For Third Time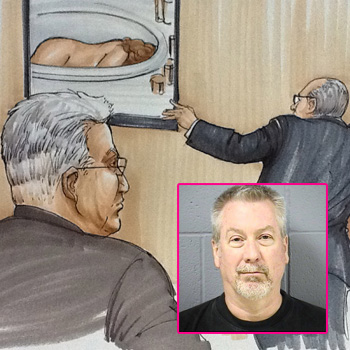 By Debbie Emery - RadarOnline.com Reporter
Three times wasn't the charm for murder suspect Drew Peterson when his attorney's request for a mistrial was denied for the third time on Thursday.
Lawyers for the former Chicago police sergeant marched into the Joliet, Illinois, courtroom alleging that missteps by the prosecution earlier this week had irreparably tainted the jury, but despite their claims that it was going to be an "unfair trial," Judge Edward Burmila denied the request.
Article continues below advertisement
He did however appear to give the prosecution a severe wrist-slapping by instructing the jurors to disregard any testimony from neighbor, Thomas Pontarelli, regarding a bullet in his driveway or that he "got the message" from Peterson, reported the Chicago Tribune.
The 58-year-old man dubbed "Mr. Untouchable" is suspected of killing both his third and fourth wives, but is only currently standing trial for the 2004 murder of number three, Kathleen Savio, whose body was found in a dry bathtub in her home with her hair soaked in blood. His next spouse, Stacy Peterson, disappeared in 2007 and while he remains the prime suspect, he has not been charged in connection with her death.
Judge Burmila went on to tell the court that the prosecution is prohibited from further questioning Pontarelli, and told jurors that the state attorney's job is "not that it shall win at all costs, but that justice be done," and reminded them to remain "dispassionate" in their judgment of the case.
The contentious testimony from Peterson's former neighbor included the comment: "We had a conversation where he was accusing me of changing the locks. I said I didn't, but I got his message yesterday," Pontarelli testified. "He asked what was that. I said I found a .38-caliber bullet on my driveway."
Article continues below advertisement
As RadarOnline.com previously reported, Peterson became a suspect in Kathleen's death - which was originally ruled accidental after a fall into a bath tub - when police investigating Stacy's disappearance exhumed her body and a new pathologist report changed the cause of death to drowning by homicide.
The trial is expected to last two to four weeks, but whatever the outcome Peterson will not be eligible for the death penalty as it was abolished in the state of Illinois in March, 2011.